Leathernecking - 1930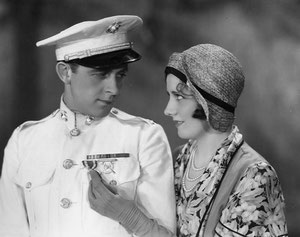 RKO - 81 minutes - US release 09.12.1930
black and white and color
Cast: Irene Dunne (Delphine Witherspoon), Ken Murray (Frank), Louise Fazenda (Hortense), Ned Sparks (Sparks), Lilyan Tashman (Edna), Eddie Foy,Jr. (Chick Evans), Benny Rubin (Stein), Rita Le Roy (Fortuneteller), Fred Stanley (Douglas), William von Brinken (Richter), Carl Gerrard (Colonel), Werther Weidler, Wolfgang Weidler (Richter´s sons)
Director: Edward Cline, Associate producer: Louis Sarecky, Photography:J.Roy Hunt
article about "Leathernecking" and its storyline from 10.29.1930
Notes: based on the play "Present Arms" by Herbert Fields, Richard Rodgers and Lorenz Hart. The last twenty minutes were shot in color.
This film marked Irene's screen debut. As far as we know no available copy of "Leathernecking" exists. For further information please visit my blog.
Reviews:
New York Times, 09.13.1930 "The film's chief virtue is its failure to take itself seriously, and in so doing frolics along to a slapstick beat..."
Variety, 09.17.1930 "Balances are all wrong. What, for example, is the idea of casting a charming romantic actress like Irene Dunne opposite a comedian like Eddie Foy,Jr. ...