Consolation Marriage - 1931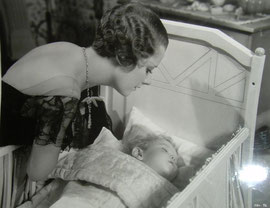 RKO - 82 minutes - 10.29.1931 NYC/ 11.21.1931 US release
Cast: Irene Dunne (Mary Brown), Pat O'Brien (Steve Rollo Porter), Myrna Loy (Elaine), John Halliday (Jeff), Matt Moore (The Colonel), Lester Vail (Aubrey), Wilson Benge (Butler), Pauline Stevens (Baby)
Director: Paul Sloane, Producer: William LeBaron, Screenplay: Humphrey Pearson, based on a story by William Cunningham. Song: Myles Connolly and Max Steiner, Photography: J.Roy Hunt, Costumes/Sets: Max Ree
 Notes:   In this film Irene gets the first time star-billing above the title. She sings "Devotion" with piano solo. Pat O'Brien and Irene were friends off-screen. She was godmother to his son Terry.
Although the story is set in New York the scenes in the aquarium were filmed in San Francisco.
"Devotion" - Irene sings in "Consolation Marriage"
short article about Irene and her starstatus around the time "Consolation Marriage" hit the movie theatres
Reviews:
New York Times, 10.30.1931 "Miss Dunne's performance is capable, almost as good as her portrayal in "Cimarron""
Variety, 11.03.1931 "Excepting for a few moments that show need of more care in lighting or making up the eyes, Irene Dunne looks well in her first star role. As fas as her performance is concerned, she does as well as she did in "Cimarron". Her work opposite Dix in that talker established her as a player. She upholds that rank.