Back Street - 1932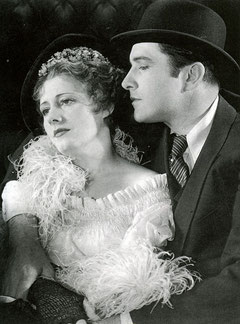 Universal - 89 minutes - US release 08.28.1932
Cast: Irene Dunne (Ray Schmidt), John Boles (Walter Saxel), June Clyde Freda Schmidt, George Meeker (Kurt Shendler), ZaSu Pitts (Mrs. Dole), Shirley Grey (Francine), William Bakewell (Richard Saxel), Arletta Duncan (Beth Saxel), Paul Weigel (Mr. Schmidt), Jane Darwell (Mrs. Schmidt) and others
Director: John M. Stahl, Producer: Carl Laemmle Jr., Screenplay: Gladys Lehman and Lynn Starling based on the novel by Fannie Hurst, Photography: Karl Freund, Costumes: Vera
Notes: Though Irene called the film's message "trash" this was an important movie for her career, consolidating her star status. "Back Street" was a huge success and earned Universal a lot of money - even more than the studios former record holder "All Quiet At The Western Front". This first fiming of "Back Street" was re-released in 1935.
"Back Street" was remade two times: in 1941 starring Margaret Sullavan and Charles Boyer and 1961 with Susan Hayward and John Gavin in the leads. Once again those remakes had the effect that Irene's version was out of circulation for TV showings for a long time.
Reviews:
New York Times, 08.29.1932  "Boles is handsome and Miss Dunne is attractive, but the dialogue in this film is a handicap to both of them...Miss Dunne does well enough considering the wobbly character she plays."
Variety, 08.30. 1932  "Miss Dunne is excellent as Ray Schmidt. She is the personification of 'a real woman', an excellent casting assignment for this sort of role."