Symphony Of Six Million - 1932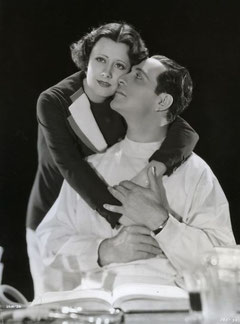 RKO - 94 minutes - 04.14.1932 NYC/ 04.29.1932 US release
Cast: Irene Dunne (Jessica), Ricardo Cortez (Dr. Felix Klauber), Gregory Ratoff (Meyer Klauber), Anna Appel (Hannah Klauber), Lita Chavret (Birdie Klauber), Noel Madison (Magnus Klauber), Helen Freeman (Miss Spencer), Julie Hayden ( Nurse), John St. Polis (Dr. Schifflen), Lester Lee (Felix as child) and others
Director: Gregory LaCava, Executive Producer: David O.Selznick, Associate Producer: Pandro S.Berman, Screenplay: Bernard Schubert, J.Walter Ruben and James Seymour based on the novel by Fannie Hurst, Music: Max Steiner, Photography: Leo Tover
Notes:    This is Irene's first "weepie" and the first time she worked with director Gregory LaCava. Probably Irene's participation in the filming of a Fannie Hurst novel lead to her loan out to Universal for "Back Street" another Hurst filmization. "Symphony Of Six Million" was the first movie to show an eloborate surgical procedure. And it marks another premiere - this is Max Steiner's first full-fleged score. Later on he wrote music for many films, including "Gone With The Wind".
Rewievs:
New York Times, 04.15.1932 "Cortez is capable and likewise Miss Dunne."
Variety, 04.19.1932 "Irene Dunne is meaningless, appearing but seldom and then always in forced and unreal situations."