Thirteen Women - 1932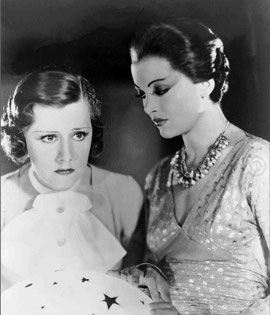 RKO - 59 minutes - US release 10.14.1932
Cast: Irene Dunne (Laura Stanhope), Ricardo Cortez (Sergeant Barry Clive), Myrna Loy (Ursula Georgi), Jill Esmond (Jo Turner), Florence Eldridge (Grace Coombs), Kay Johnson (Helen Dawson Fry), Julie Haydon (Mary), Harriet Hagman (May Raskob), Mary Duncan (June Raskob), Peg Entwistle (Hazel), Marjorie Gateson (Martha), Elsie Prescott (Nan), Wally Albright (Bobby Stanhope), C.Henry Gordon (Swami Yogadachi), Ed Pawley (Burns) and others
Director: George Archainbaud, Executive Producer: David O.Selznick, Screenplay: Bartlett Cormack and Samuel Ortniz based on the novel by Tiffany Thayer, Musical Director: Max Steiner, Photography: Leo Tover, Art Director: Carroll Clark
Notes: After bad reviews "Thirteen Women" was cut down from its initial 74 minutes to 59 minutes which is the duration of the now available print. This leads to some discrepancies in the script and explains why the number of featured women doesn't sum up to thirteen. Some characters were completely deleted. "Thirteen Women" was based on the novel by Tiffany Thayer.
Irene got only second billing after Ricardo Cortez but nevertheless the release date of "Thirteen Women" was held up to take advantage of Irene's huge success in "Back Street" which had hit the movie theatres about 6 weeks earlier.
Peg Entwistle who played Hazel gained notoriety for commiting suicide by jumping off the thirteenth letter of the Hollywoodland sign in 1932.
Reviews:
New York Times, 10.15.1932 "Irene Dunne and Jill Esmond are the two quite sane women among the thirteen."
Variety, 10.18.1932 "The featured players are Irene Dunne and Ricardo Cortez, neither of whom had much to do."