No Other Woman - 1933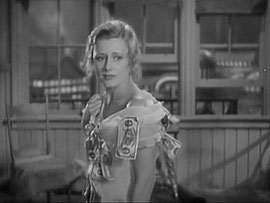 RKO - 58 minutes - US release 01.29.1933
Cast: Irene Dunne (Anna Stanley), Charles Bickford (Jim Stanley), Eric Linden (Joe LaCovia), J. Caroll Naish (Bonelli), Gwili Andre (Margot Von Dearing), Buster Miles (Bobbie Stanley), Lelia Bennett (Susie), Christian Rub (Eli) and others
Director: Walter Ruben, Producer: David O. Selznick, Screenplay: Wanda Tuchock and Bernard Schubert based on the play "Just A Woman" by Eugene Walter, Photography: Edward Cronjager
Notes: "No Other Woman" premiered on the Roxy Theatre in New York. Irene plays in a short scene golf which was her favorite sport in real life, and reportedly she was very good at it.
Reviews:
New York Times, 01.30.1933 "Miss Dunne's role is a thankless one, but she is attractive and sincere in the acting of it."
Variety, 01.31.1933 "Irene Dunne as the simple and ambitious housewife interprets her role during most of the running time in a manner which commands sympathy."