The Secret Of Madame Blanche - 1933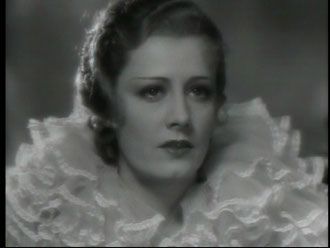 MGM - 83 minutes - US release 02.03.1933
Cast: Irene Dunne (Sally Sanders St.John), Phillips Holmes (Leonard St. John), Lionell Atwill (Aubrey St. John), Una Merkel (Ella), Douglas Walton (Leonard St. John Jr.), C.Henry Gordon (State´s Attorney), Jean Parker (Eloise), Mitchell Lewis (Duval)
Director: Charles Brabin, Screenplay: Frances Goodrich and Albert Hackett, based on the play "The Lady", Music: Dr. William Axt, Photography: Merritt B. Gerstad, Costumes: Adrian
Notes: Irene on her second loan-out to MGM. Once again this studio takes advantage of her singing abilities. Irene sings three numbers:"If Love Were All", "Every Lover Must Meet His Fate" and "Jimmy". Fitting to her star status Irene is this time dressed by MGM's chief designer Adrian.
Reviews:
New York Times, 02.04.1933 "...Miss Dunne gives quite an appalling and sincere performance...Miss Dunne is ingratiating both as young woman and as the mother of twenty years later. She makes most of her scenes convincing."
Variety, 02.07.1933 "Miss Dunne, moving through most of a normal lifetime as the action progresses from the 1890s to wartime, is at all times excellent. She is as much the picture as any part of it. That she will increase her following, a deserved due, is certain after "Secrets" gets into circulation...Miss Dunne does a complete finale number with her show and later on sings at the piano in cheap Paris cafes. More of this sort of thing could be stood, especially if the singing is in as capable hands as Miss Dunne´s."