Stingaree - 1934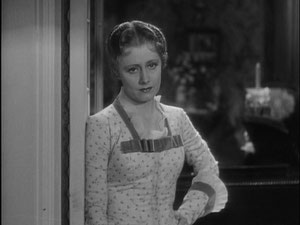 RKO - 76 minutes - 05.17.1934 NYC/ US release 05.25.1934
Cast: Irene Dunne (Hilda Bouverie), Richard Dix (Stingaree), Mary Boland (Mrs.Clarkson), Conway Tearle (Sir Julian Kent), Howie (Andy Devine), Henry Stephenson (Mr. Clarkson), Una O'Connor (Annie), George Barraud (Inspector Radford), Reginald Owen (Governor-general) and others
Director: William A.Wellman, Producer: Pandro S.Berman, Screenplay: Becky Gardiner based on the stories of E. W. Hornung, Music by W.Franke Harling, Gounod, Friederich von Flotow and Max Steiner, Photography: James Van Tree
Notes: "Stingaree" reunited Irene with her co-star Richard Dix from the great success "Cimarron" (1931) but this time with reversed signs: Irene gets first billing as undisputed star of "Stingaree".
This is the first time after the not too sucessfull "Leathernecking" (1930) that Irene's home studio RKO took advantage of her singing abilities to some real extent.  She sings  "Once You Are Mine", and the film's torchsong "Tonight Is Mine", a part of the "Jewel Song" from Gounod's opera "Faust", and "The Last Rose Of Summer" a traditional Irish melody which Flotow used in his opera "Martha".
here is the music from "Stingaree"
Reviews:
New York Times, 05.18.1934 "Miss Dunne gives a charming performance and she sings several songs very agreeably."
Variety, 05.22.1934 "Radio probably realized that the horse operas have done much to rub the bloom of youth form hard riding and gives it mostly to Miss Dunne, who plays competently and sings better. The song 'Tonight Is Mine' is the chief general musical number though excerpts from 'Faust'and 'Martha' are introduced as parts of the mimic stage performance. Musically Miss Dunne rises above her dramatic work, since the authors have given her small opportunity, and she wisely does not steam it up."