Sweet Adeline - 1934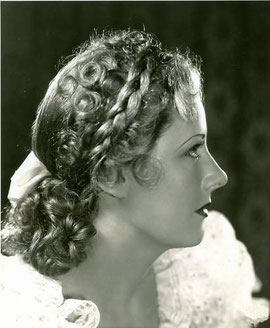 Warner Brothers - 87 minutes - US release 12.29.1934
Cast: Irene Dunne (Adeline Schmidt), Donald Woods (Sid Barnett), Louis Calhern (Major James Day), Ned Sparks ( Dan Herzig), Hugh Herbert (Rupert Rockingham), Nydia Westman (Nellie Schmidt), Winifred Shaw (Elysia), Joseph Cawthorn (Oscar Schmidt), Dorothy Dare (Dot, the band leader), Don Alvarado (Renaldo), Phil Regan ( Juvenile), Martin Carralaga (dark young man), Noah Beery, Sr. (Sultan) and others
Director: Mervyn LeRoy, Producer: Edward Chodorov, Screenplay: Erwin S. Gelsey based on the musical by Jerome Kern, Oscar Hammerstein II, Harry Armstrong, and Dick Gerard, Songs: Jerome Kern and Oscar Hammerstein II, Orchestral arrangements: Ray Heindorf, Musical director: Leo F. Forbstein, Choreographer: Bobby Connolly, Photography: Sol Polito, Costumes: Orry-Kelly, Art director: Robert Haas
Notes: "Sweet Adeline" marks Irene's first Jerome Kern musical on screen. Starring later on in "Roberta", "Show Boat", "High, Wide And Handsome" and "Joy Of Living" she became the film singer the most associated with his music. In an interview with John Kobal from the year 1972 Irene spoke about her collaboration with Kern.  Most of the Broadway score was retained but Kern wrote "Lonely Feet" and "We Were So Young" for the filming. 
Here are Irene's songs from the film.
Reviews:
New York Times, 01.07.1935 "Chiefly (the film) permits the amiable filmgoer to hear Irene Dunne adjusting her cool and pleasant soprano to such memorable romantic songs as "Here Am I", "Don´t Ever Leave Me", "Why Was I Born?", "Twas Not So Long Ago" and "We Were So Young"...Since Miss Dunne possesses the handsome and aloof manner of the assured metropolitan, it is a little bit disconcerting to find her enrolled as the innocent maid of the fable."
Variety, 01.08.1935 "Miss Dunne, in fine voice, is comely as Adeline, and effective also, despite that she's not suited to torch songs. They didn't make it a cinch for, either, in doing such things as requiring her to sing a number after reading a lyric sheet once."
Film Fun, 03.1935 "Pleasing musical concerning a beer garden warbler who becomes a stage star. Irene Dunn (sic) has the leading role, but Hugh Herbert steals the picture with a swell brand of comedy."