Roberta - 1935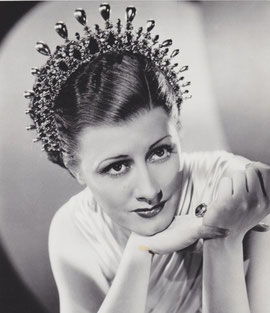 RKO - 105 minutes - US release 03.08.1935
Cast: Irene Dunne (Stephanie), Fred Astaire (Huck Haines), Ginger Rogers (Countess Scharwenka/Lizzie Gatz), Randolph Scott (John Kent), Helen Westley (Aunt Minnie), Victor Varconi (Ladislaw), Claire Dodd (Sophie), Luis Alberni (Voyda), Ferdinand Munier (Lord Delves) and others
Director: William A. Seiter, Producer: Pandro S.Berman, Screenplay: Jane Murfin, Sam Mintz, Glenn Tryon, Alan Scott based on the novel "Gowns By Roberta" by Alice Duer Miller and the musical "Roberta" by Jerome Kern and Otto Harbach, Songs: Jerome Kern, Otta Harbach, Bernard Dougall, Oscar Hammerstein II, Dorothy Fields, and Jimmy McHugh, Musical Director: Max Steiner, Choreographers: Fred Astaire and Hermes Pan, Photography: Edward Cronjager, Costumes: Bernard Newman
Notes: Another Kern for Irene on screen. She sang "Russian Lullaby", "Yesterdays", "Smoke Gets In Youre Eyes" and "Lovely To Look At". The last one was especially written for the film - as was "I Won't Dance" to give Fred Astaire and Ginger Rogers the chance for an additional dance number. With the recording of "Lovely To Look At" Irene made the number 20 of the Billboard Charts in June 1935. Though film historians nowadays concentrate on the fact that "Roberta" marks the third teaming of Ginger and Fred, Irene was cast as a sure bet with the box office, because RKO wasn't sure that Rogers/Astaire could carry a film of that magnitude.  
A nice chunk of the production costs (about $750.000 - a third went to the salaries of the principals) was swallowed by the eloborate wardrobe. Bernard Newman was a New York couturier working as head of the costum salon of Bergdorf Goodman. In this function he did some gowns for Irene's private wardrobe and thus she suggested him as  costume designer for "Roberta". Newman created the costumes for about 20 Hollywood productions the following year, but not really being happy with designing for films, returned to New York to take up his career at Bergdorf's again.
"Roberta" was the last film Irene made under her initial RKO contract.  In the following years she worked for all mayor Hollywood studios,free-lanced, under short-term contracts, never again picking up a longterm contract with a single studio again.  
18 of Irene's total of 41 films were filmed during her first five years in Hollywood.
Reviews:
New York Times, 05.08.1935 "For the liquid sentimental song like "Lovely To Look At," "Yesterday," [sic] and "Touch Of Your Hand" there is the cool soprano of Irene Dunne."
Variety, 03.13.1935 "Irene Dunne looks like a million and sings like just as much. Her voice registers better her than in previous films in which she has warbled."
Liberty, 03.30.1935 "...aided by lovely Irene Dunne and Randy Scott, late of the horse operas, as the more conventionally romantic pair, the film becomes an item for the "must" list of every amusement seeker."