Show Boat - 1936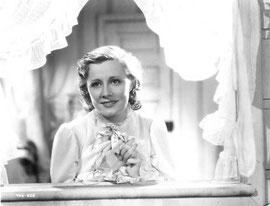 Universal - 113 minutes - US release 05.14.1936
Cast: Irene Dunne (Magnolia Hawks), Allan Jones (Gaylord Ravenal), Charles Winninger (Captain Andy Hawks), Helen Westley (Parthy Hawks), Paul Robeson (Joe), Helen Morgan (Julie), Donald Cook (Steve), Sammy White (Frank), Queenie Smith (Ellie), J. Farrell Middleton (Vallon), Hattie McDaniel (Queenie),Francis X. Mahoney (Rubberface), Sunnie O´Dea (Kim adult), Francis Marilyn Knowlden (Kim, child), Patricia Barry (Kim, toddler) and others
Director: James Whale, Producer: Carl Laemmle Jr., Screenplay: Oscar Hammerstein II based on the novel by Edna Ferber and the musical by Jerome Kern and Oscar Hammerstein II, Songs: Jerome Kern and Oscar Hammerstein II, Musical director: Victor Baravelle, Choreography: LeRoy Prinz, Photography: John Mescall, Art director: Charles D. Hall, Costumes: Doris Zinkeisen and Vera West.
Notes: Irene sang "Make Believe", "You Are Love", "Gallavantin'Around", "Can't Help Lovin' Dat Man" and "After The Ball". Unfortunately her and Allan Jones' duet "Why Do I Love you" ended on the cutting floor.
This version of "Show Boat" is considered the best of the three filmings - previously in 1929, and a third time in 1951 as a MGM Technicolor musical with Kathryn Grayson and Howard Keel. The film from 1936 sticks closely to the original script of the Broadway production - no wonder, considering the fact that the screen play was written by Oscar Hammerstein II. This production had also the asset that the main players had stage experience with Show Boat: Irene 1929-30 tour, Allan Jones St. Louis Municipal Opera, Hattie McDaniel west coast production and Charles Winninger and Helen Morgan were members of the original Broadway cast.
For Irene "Show Boat" had a special meaning, both for personal and career-wise reasons: Irene Dunne And "Show Boat  and Irene Dunne And "Show Boat" part 2
In 1972 Irene spoke with John Kobal about "Show Boat":
James Whale wasn't the right director. I really shouldn't say that, but to me the picture didn't come off as well as the stage play. There were lots of inter-polations that we didn't need at all, and I think the ending was stupid. It's so easy to attach blame to a man one feels was miscast as director, so perhaps I shouldn't, but, you see, he was more interested in atmosphere and lighting and he knew so little about that life. I could have put my foot down about it, but there would have been no reason to do so because we had so many of the original people that you could only expect the best. I knew the whole thing backwards. No, you see, I could have put my foot down at the contract stage, but once the camera started turning, I was an angel on the set. No, I never cared for Show Boat (the film), but I thought the stage production was one of the best things. The score was marvelous, but even the book could have stood up on its own. (Full interview) 
In 1996, "Show Boat" made it to the list for preservation in the United States National Film Registry by the Library of Congress. In 2006, "Show Boat" ranked number 24 on the American Film institute's list of best musicals.
Reviews:
New York Times, 05.15.1936 "Miss Dunne is splendid in the Norma Terris role of Magnolia Ravenal, nee Hawks, daughter of Captain Andy of the showboat Cotton Blossom."
Variety, 05.20.1936 "Irene Dunne and Allan Jones are superb in the roles originally created by Norma Terriss (sic) and Howard Marsh... Irene Dunne maintains the illusion of her Magnolia throughout - from her own secluded girlhood; into sudden stardom on the Cotton Blossom; and later, as a more mature artist, carrying her torch for the dissappeared Ravenal and rearing her own child in professional prominence... "
Liberty, 06.13.1936 "The most gratifying surprise of the picture, though, is its star, Irene Dunne. Catching every shade in a role that spans a lifetime, she imbues the part with her usual warm intelligence. But one is hardly prepared for her gay comedy flare - a flare she has kept, until now, hidden from the screen."