Theodora Goes Wild - 1936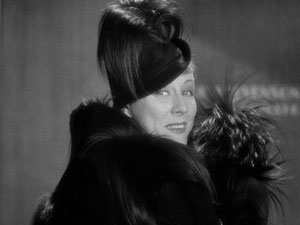 Columbia - 94 minutes - US release 11.12.1936
Cast: Irene Dunne (Theodora Lynn), Melvyn Douglas (Michael Grant), Thomas Mitchell (Jed Waterburg), Thurston Hall (Arthur Stevenson), Spring Byington (Rebecca Perry), Elizabeth Risdon (Aunt Mary), Margaret McWade (Aunt Elsie), Nana Bryant (Ethel Stevenson), Robert Greig (Uncle John), Henry Kolker (Jonathan Grant), Leona Maricle (Agnes Grant), Frederich Burton (Govenor Wyatt), Rosalind Keith (Adelaide Perry) and others
Director: Richard Boleslawski, Associate Producer: Everett Riskin, Screenplay: Sidney Buchman, based on the story by Mary McCarthy, Photography: Joseph Walker, Art Director: Stephen Goosson, Costumes: Bernard Newman
Notes: "Theodora Goes Wild" marks Irene's first comedy, and the first venture into a genre she is mainly remembered for nowadays. Though Irene had the idea that she wanted to film a comedy when she signed a contract with Columbia in June 1935, she balked when the day of shooting came nearer and took a vacation with her family in Europe. She was worried how her public would react to this change of path and hoped that Columbia would replace her in her absence.  But Columbia was still waving with the script of "Theodora Goes Wild" when Irene returned, and with the only alternative being to go on suspension, Irene started filming her first comedy. She had objections against director Richard Boleslawski, but persuaded by studio boss Harry Cohn gave him a one-week probation. Irene remembered Boleslawski later as "very kind" person and "We had no problems. I enjoyed working with Melvyn Douglas, and everything rolled along beautifully." (1978 - Interview with James Harvey).
 Many of Irene's friends had a special liking for this film because they found the character of Theodora the nearest to Irene's off-screen personality. Irene claimed that, despite her ladylike posture,  there was a lot of Theodora in her, but her annotation in an interview relativizes her "wildness" not her temperament, though:
"I know lots of friends of mine like it better than almost anything I ever made. Because they say, now that's the real you... Well, I don't know what that means. (pause; then in a small voice) She's supposed to gone wild, but she didn't go very wild really..." (full interview).
 Irene sang three times in "Theodora Goes Wild": a hym in church "Rock Of Ages", "Be Still My Heart" a composition by Allan Flynn and Jack Egan, and in a short "duet" with Melvyn Douglas she lilts "Three Blind Mice."
"Theodora Goes Wild" was successful with the public and paved the way for further Irene Dunne comedies. Her characterization captured Irene her second Academy Award nomination but she lost to Luise Rainer in "The Great Ziegfeld."
Reviews:
New York Times, 11.13.1936 "Although she goes wild, she also goes silly; and farce does not set too well upon the lovely shoulders of Irene Dunne. The one thing we cannot abide is studied cuteness and that goes for Shirley Temple, Robert Taylor and Miss Dunne - much as we adore them all... Douglas and Miss Dunne are a splendid comedy team when there´s comedy to be played, but neither fits well in the farce sequence."
Variety, 11.18.1936 "... it should strengthen the following of Irene Dunne who takes the hurdle into comedy that so many dramatic actresses have made in the last year of two with versatile grace."
Time, 11.23.1936 "For cinema patrons who like rollicking farce, 'Theodora Goes Wild' amounts to a feast. It begins rollicking in reel one, rollicks faster and more furiously from there on. Most rollicking shot: the wife of Theodora's publisher peeking out of her door to see her drunken husband and Theodora rollicking harmless on the floor."