The Awful Truth - 1937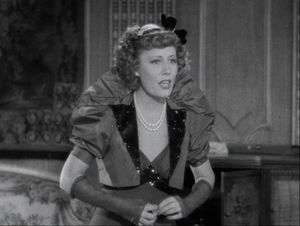 Columbia - 90 minutes - US release 10.21.1937
Cast: Irene Dunne (Lucy Warriner), Cary Grant (Jerry Warriner), Ralph Bellamy (Daniel Leeson), Alexander D'Arcy (Armand Duvalle), Cecil Cunningham (Aunt Patsie), Esther Dale (Mrs. Leeson), Joyce Compton (Dixie Belle Lee), Molly Lamont (Barbara Vance), Mary Forbes (Mrs. Vance), Robert Warwick (Mr. Vance), Robert Allen (Frank Randall), Asta (Mr. Smith) and others
Producer and director: Leo McCarey, Screenplay: Vina Delmar based on the play by Arthur Richman, Songs: Ben Oakland and Milton Drake, Musical director: Moris Stoloff, Photography: Joseph Walker, Art directors: Gooson and Lionel Banks, Editor: Al Clark, Sets: Babs Johnstone, Costumes: Kalloch
Notes: "The Awful Truth" is not only one of Irene's best known films but an exemplary representative of the romantic screwball comedy. This motion picture marks Irene's first co-work with Cary Grant - one of her two favorite leading men - and with Leo McCarey - a director she appreciated and liked very much. Though "The Awful Truth" is nowadays considered one of the classics this film started ill-omened. The whole thing was rushed into production to fullfill Irene's contract, Cary Grant didn't want to make it and tried to opt out offering the studio to work for free in another movie and Tay Garnett, the director of "Joy Of Living", turned it down, which fortunately brought Leo McCarey in. Despite this difficult start "The Awful Truth" was not only a commercial but a critical success. Oscar nominations went to Leo McCarey (Best Director), Irene (Best Actress), Ralph Bellamy (Best Actor in a Supporting Role), Vina Delmar (Best Writing, Screenplay), Al Clark (Best Film Editing) and Columbia (Best Film). Only win for Leo McCarey, Irene lost once again to Louise Rainer ("The Good Earth"). In 1996 "The Awful Truth" was selected by the US Library of Congress to be preserved as part of the National Film Registry.
Though the filming from 1937 was already the third version (previously filmed in 1925 with Agnes Ayres, and 1929 with Ina Claire, who orginated the role on stage), Warner Brothers remade  "The Awful Truth" in 1953, titled "Let's Do It Again" with Jane Wyman and Ray Milland in the leads.
Irene sung three times: a sort of duet, if you can call it that, with Ralph Bellamy "Home On The Range," "Serenata," and "Gone With The Wind."
The last word goes,and deservedly so, to Miss Dunne (from the interview with James Harvey):
JH: Have you seen The Awful Truth lately?
...
ID:...No, I haven't seen The Awful Truth, but I'll always enjoy it.
Reviews:
New York Times, 11.05.1937 "Miss Dunne and Grant as the couple who get undivorced, and Ralph Bellamy as the rich respectable suitor from Oklahoma have fun with their roles. and the pleasure seems to be shared, on the whole, by the audience...
Variety, 10.20.1937 "Interesting, too, is that Irene Dunne, in the comedy lead, was first brought out as a celluloid comedienne by Columbia in 'Theodora Goes Wild.' She tops that performance by almost an Alp in 'Awful Truth'... Miss Dunne goes vocal several times, once impersonating a phony Deep Dixie warbler (Joyce Compton), who works out a burlesque song in a nightclub sequence. Other time is when Miss Dunne duets with Bellamy in a comedy chanting of 'Home On The Range.'"
Time, 11.01.1937 "Irene Dunne... put her foot down last year, demanded comedy. Her astonishing hoe-down interlude in 'Show Boat' indicated her aptitude for lighter things. 'Theodora Goes Wild' gave her the first full-length try. 'The Awful Truth' establishes her with her peers, Claudette Colbert and Jean Arthur."