Joy Of Living - 1938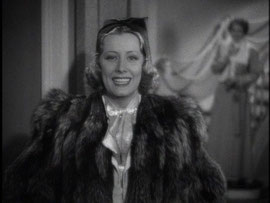 RKO - 90 minutes -
US release 05.06.1938
Cast: Irene Dunne (Margaret Garret), Douglas Fairbanks Jr. (Dan Brewster), Alice Brady (Minerva Garret), Guy Kibbee (Dennis Garret), Jean Dixon (Harrison), Lucille Ball (Salina Pine), Warren Hymer (Mike), Billy Gilbert (Cafe owner), Frank Milan (Bert Pine), Dorothy Steiner (Dotsy Pine), Estelle Steiner (Betsy Pine), Warren Hymer (Mike), John Qualen (Oswego), Spencer Charters (Magistrate), Franklin Pangborn (Radio broadcast orchestra leader), Charles Williams (Sideshow barker), Fuzzy Knight (Sideshow piano player) and others.
Director: Tay Garnett, Producer: Felix Young, Assistant director: Kenneth Holmes, Screenplay: Gene Towne, Graham Baker, Allan Scott, Dorothy Fields and Herbert Fields, Songs: Jerome Kern and Dorothy Fields, Musical director: Frank Tours, Photography: Joseph Walker, Editor: Jack Hively, Art directors: Van Nest, Polyglase and Carroll Clark, Costumes: Edward Stevenson and Kalloch
Notes: "Joy Of Living" marks Irene's last Jerome Kern on screen. She sang "What's Good About Good Night," "You Couldn't Be Cuter," "Just Let Me Look At You" and "A Heavenly Party." 
"Joy Of Living" war orginally planed with Ann Sothern and John Boles in the leads but Irene and Douglas Fairbanks Jr. took over. According to a Hollywood Reporter news item from Oct. 1937 John Barrymore was "set" as leading man. (Would have been an interesting combination!) 
The studio had to skip the orginal title "Joy Of Loving" because the censors found it too risque. The costs for the film summed up to a million dollar which "Joy Of Living" hadn't a chance to recoup and thus was a financial failure for RKO. 
That's how Irene remembered "Joy Of Living" in 1978:
JH: Do you remember if Tay Garnett did a lot of takes on Joy of Living?
ID: I don't remember anything about that picture... I remember that Douglas Fairbanks -- funny the things you do remember -- that Douglas had been in England and was a quite an Anglophile. There was a scene where he wanted to say "fu-tile" -- and Tay Garnett said, this is an American picture, and you are going to say "fewtle" if we have to stay here all day. And we nearly did.
JH: Douglas Fairbanks said in an interview that you were terrific to work with.
ID: He did? Well , we had a lot of fun on that picture. I don't remember the story very well because I haven't seen it. I've seen the different ones we've talked about, like Love Affair and The Awful Truth and White Cliffs Of Dover. I have seen them through the years, but I haven't seen Joy Of Living and I've forgotten it. (Interview with James Harvey)
Reviews:
New York Times, 05.06.1938 "It is always depressing to watch a couple of characters change into a pair of caricatures. When Miss Dunne, who has a pleasing voice, begins to go 'cluck-cluck-cluck' and when Fairbanks, who was such a debonair Rupert of Hentzau, flaps his arms while the sound track picks up Mr. Disney's D. Duck I surrendered, gritted my teeth and knew that nothing worse could befall... The saving grace it the Jerome Kern score - with 'Just Let Me Look At You,' 'You Couldn't Be Cuter,' 'What's Good About Goodnight' and 'A Heavenly Party' - which Miss Dunne sings most effectively considering the slapstick static she has to contend with."
Variety, 03.23.1938 "Important to the list [of distinguished writing and composing talent] is Jerome Kern, who composed four songs that have lyrics by Dorothy Fields and excellent presentation by Miss Dunne, who sings engagningly."
Newsweek, 04.04.1938 "... "Joy Of Living" starts off briskly under Tay Garnett's direction but slows down at the halfway mark to puff home in a series of gag situations. But even these interpolated scenes are sustained by Fairbanks' diligence and Irene Dunne's comic ability to drink beer like a high-school freshman, yet hiccup like a lady and do justice to a pleasant Dorothy Fields-Jerome Kern score."