Invitation To Happiness - 1939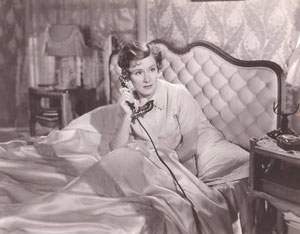 Paramount - 95 minutes - US release 06.07.1939
Cast: Irene Dunne (Eleanor Wayne), Fred MacMurray (Albert "King" Cole), Charlie Ruggles (Hank "Pop" Hardy), Bill Cook (Albert Cole Jr.), William Collier, Sr. (Mr. Wayne), Marion Martin (Lola), Oscar O'Shea (Divorce judge), Burr Caruth (Butler), Eddie Hogan (The Champ), Gordon Jones (Dutch Arnold) and others
Director/Producer: Wesley Ruggles, Screenplay: Claude Binyon and Mark Jerome, Song: Frank Loesser and Frederick Hollander, Editor: Alma Macrorie, Photography: Farciot Edouard and Leo Tover, Art directors: Hans Dreier and Ernst Fegte, Costumes: Edith Head, Sound: Earl Hauman and Richard Olson
Notes: "Invitation To Happiness" reunited Irene with Wesley Ruggles, the director of "Cimarron," Irene's second film. For the first time she worked with Fred MacMurray with whom she was teamed again in "Never A Dull Moment" in 1950. Charlie Ruggles, who played "Pop" Hardy - Cole's trainer - was Wesley Ruggles brother. 
The plot spans a period of ten years beginning in 1927; accordingly Irene was dressed in wardrobe from the 20s designed by Edith Head in the first scenes of the film.
Reviews:
New York Times, 06.08.1939 "We confess a delighted appreciation of the scenes in which Miss Dunne and William Collier Sr. (as her father) face the advent of the tiny stranger, and that in which she claims her triumph over King Cole's pre-marital blonde..."
Variety, 05.10.1939 "Miss Dunne switches to a straight dramatic role from her recent cycle of comedies and farces, and does a most capable job in the assignment."
Time, 06.19.1939 " 'Invitation To Happiness'... is not exactly up cinemactress' Dunne's gay alley, but it is a setup for headstrong cinemactor MacMurray, a field day for Character Actors William Collier Sr. and Charles Ruggles..."