Love Affair - 1939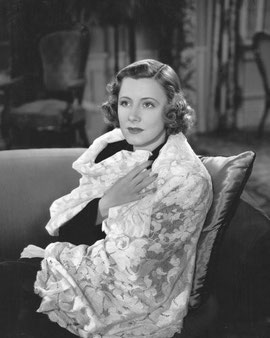 RKO - 87 minutes -
US release 03.16.1939
Cast: Irene Dunne (Terry McKay), Charles Boyer (Michel Marnet), Maria Ouspenskaja (Grandmother Janou), Lee Bowman (Ken Bradley), Astrid Alwyn (Lois Clarke), Maurice Moscovich (Maurice Cobert), Scotty Beckett (Boy on ship), Joan Leslie (Autograph seeker), Ferike Boros (Boarding house keeper), Frank McGlynn Sr. (Orphanage superintendent) and others
Director/Producer: Leo McCarey, Assistant director: James Anderson, Screenplay: Delmer Daves, Donald Ogden Stewart,  based on a story by Mildred Cram and Leo McCarey, Musical score: Roy Webb, Songs: B.G. DeSylva, Harold Arlen, and Ted Koehler, Editors: Edward Dymtryck and George Hively, Photography:Rudolph Mate, Art directors: Van Nest Polglase and Al Herman, Costumes: Howard Greer and Edward Stevenson, Sets: Darrell Silvers
Notes: Irene's second co-work with Leo McCarey and her first film with Charles Boyer - he and Cary Grant were Irene's favored leading men - resulted in a film both leads called their favorite. As in "The Awful Truth" many things were improvised on set, and the end of the story was not yet clear when they finished filming the first part on the ship. But as so often the ending was influenced by the censors because Irene's character Terry had to get some kind of punishment because she was a kept woman before she met Michel.
Besides the Academy Award nomination for Best Actress for Irene - her fourth - "Love Affair" was nominated for Best Picture, Best Supporting Actress (Maria Ouspenskaja), Best Writing,  Best Orignal Story (Leo McCarey and Mildred Cram), Best Original Song (DeSylva's "Wishing") and Best Art Direction. Quite an impressive list in such a year like 1939 which was blessed with an impressive amount of wonderful films. Once again, Irene didn't take the statuette home - she lost to Vivien Leigh in "Gone With The Wind."
Irene sings two times in "Love Affair": a short version of "Plaisir D'Amour" and "Sing My Heart" which was especially written for this movie and fits Irene's voice perfectly.
In 1957 "Love Affair" was remade as "An Affair To Remember" with Cary Grant and Deborah Kerr as protagonists - a color version, almost half an hour longer and with Leo McCarey in the director's chair. As so often this had the effect that Irene's version was put out of circulation for many years. In 1975 the Los Angeles International Film Exposition paid for a new negative from the only extant print which belonged to the Metropolitan Museum of Modern Art. This print was shown at the Filmex's tribute to Irene. Nowadays "Love Affair" is in common property, available from archive.org, unfortunately in a rather blurry print. This film still awaits a properly remastered DVD release.
Reviews:
New York Times, 03.17.1939 "As co-author, director and producer [Leo McCarey] must be credited primarly for the film's success, but almost as large a measure of acknowledgement belongs to Irene Dunne and Charles Boyer for the facility with which they have matched the changes of their script - playing it lightly now, soberly next, but always credibly, always in character, always with a superb utilization of the material at hand."
Variety, 03.15.1939 "Miss Dunne is excellent in a role that requires both comedy and dramatic ability... Two songs have been inserted. Miss Dunne presents one, 'Sing My Heart' by Harold Arlen and Ted Koehler, in a nightclub setting."