My Favorite Wife - 1940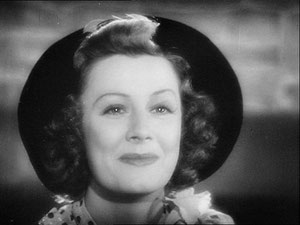 RKO - 02.05.1940 Louisville,KY; 05.17.1940 US release - 88 minutes
Cast: Irene Dunne (Ellen Wagstaff Arden), Cary Grant (Nick Arden), Gail Patrick (Bianca), Randolph Scott (Stephen Burkett), Ann Shoemaker (Mother), Scotty Beckett (Tim Arden), Mary Lou Harrington (Chinch Arden), Donald McBride (Hotel clerk), Hugh O'Connell (Johnson), Granville Bates (Judge), Pedro de Cordoba (Dr. Kohlmar), Brandon Tynan (Dr. Manning), Chester Clute (Little man) and others
Director: Garson Kanin, Producer: Leo McCarey, Assistant directors: James H. Anderson and Ruby Rosenberg, Screenplay: Bella and Samuel Spewack, and Leo McCarey, Editor: Robert Wise, Photography: Rudolph Mate, Art directors: Van Nest Polyglase and Mark-Lee Kirk, Costumes: Howard Greer, Sets: Darrell Silvers
Notes: "My Favorite Wife" reunited the team of "The Awful Truth" and according to Irene (interview with James Bawden) was planned as a sequel which explains the similarities of characters and plot. Though the script was based on a story by Bella and Samuel Spewack and Leo McCarey it was losely inspired by the poem Enoch Arden by Alfred Lord Tennyson. 
Leo McCarey was injured in an automobile accident shortly before the start of filming and thus Garson Kanin took over direction. 
According to Margie Schultz "Irene Dunne - A Bio Bibliography" Irene was paid one hundred thousand dollars (about $1,611,000 nowadays) for the movie and an additional percentage of the profits. 
The world premiere of "My Favorite Wife"  - on 05.02.1940 -  took place in Louisville, KY Irene's hometown, coincedentally during the time of the Kentucky Derby which Irene attended on the 5th of May.
Due to the 1963 20th Century-Fox remake titled "Move Over Darling" with Doris Day and James Garner in the leads "My Favorite Wife" was another Irene Dunne film which was withheld from TV showings. 20th Century Fox's earlier attempt on a remake in the year 1962 with Marilyn Monroe and Dean Martin failed because of Monroe's frequent absences from the set. Ultimately she was fired and died shortly thereafter.  
Reviews:
New York Times, 05.31.1940 "McCarey is, without compare, a master of the technique of the prolonged and amorous tease; and with an actress such as Miss Dunne through whom to appy it - she with her luxurious and mocking laughter, her roving eyes and come-hither glances - mere man is powerless before it."
Movie-Radio Mirror, 06.01.1940 "... 'My Favorite Wife' ... has an excellent chance of winning anybody's nomination as the most laughingly entertaining film of the current season ... Cary Grant and Irene Dunne surpass their last comedy efforts ... "