Penny Serenade - 1941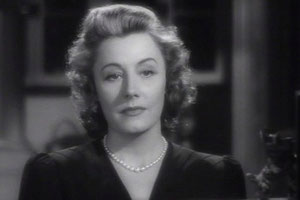 Columbia - 118/120 minutes - US release 04.24.1941
Cast: Irene Dunne (Julie Gardiner Adams), Cary Grant (Roger Adams), Edgar Buchanan (Applejack Carney), Beulah Bondi (Miss Oliver), Ann Doran (Dotty), Eva Lee Kuney (Trina, age six), Leonard Willey (Dr. Hartley), Wallis Clark (Judge), Walter Soderling (Billings), Baby Biffle (Trina, age one), Edmund Elton (Minister), Billy Bevan (McDougal) and others
Producer/director: George Stevens, Associate producer: Fred Guiol, Assistant director: Gene Anderson, Screenplay: Morrie Ryskind based on the story by Martha Cheavens McCalls August 1940, Photography: Joseph Walker, Music: W. Franke Harling, Musical director: Morris Stoloff, Editor: Otto Meyer,  Art director: Lionel Banks.
Notes: "Penny Serenade" reunited Irene the third and last time with Cary Grant albeit not in a comedy. Grant's performance which he considered his best gained him his first Academy Award nomination but he lost to Gary Cooper in "Sergeant York."  
According to his papers director George Stevens spent a great deal of care in selecting the appropiate tunes. He used the songs for the background score to mark the passage of time, and the music Julie - Irene's character - plays on the Victrola correlate with the story. 
These songs are: "You Were Meant For Me," music by Nacio Herb Brown, lyrics by Arthur Freed; "Poor Butterfly," music by Raymond Hubbel, lyrics by John L. Golden; "My Blue Heaven," music by Walter Donaldson, lyrics by John Whiting; "I'm Tickeled Pink with a Blue Eyed Baby," music by Pete Wendling, lyrics by Charles O'Flynn; "The Moon Was Yellow," music by Fred E. Ahlert, lyrics by Eric Leslie;"Silent Night, Holy Night" and "The Missouri Waltz," music by Frederich Knight Logan, lyrics by J. R. Shannon.
An especially difficult task was the filming with babies because California law mandated that a baby could only spent two hours per day at the studio. Additionaly, only one hour on a sound stage and only twenty minutes under studio lights were allowed. Columbia solved this problem by hiring twins for these scenes thus doubling Stevens' shooting time. 
"Penny Serenade" was a critical and financial success and made the list of Irene's favorite films probably because it reminded her of her own adopted daughter.
Reviews:
New York Times, 04.23.1941 "... you can't help but feel that somebody has slipped a fast one over on you ... Maybe it is Miss Dunne, who originally succumbs to one of the most severe cases of galloping nostalgia we have ever witnessed on the screen ... some very credible acting on the part of Grant and Miss Dunne is responsible in the main for the infectious quality of the film."
Variety, 04.16.1941 "Film marks the return of Miss Dunne after an extended vacation, the only effects of which seem to be that she proves again her place among the handful of women screen stars. In the role of a not too prosperous wife of a small-town struggling newspaper publisher, she is gay and earnest, and plays the sentimental passages with restraint. She has had more spectacular roles, but none that required sustaining quite the mood of her latest film."
Newsweek, 04.28.1941 "In their fictional past Irene Dunne and Cary Grant have played fast and twices as loose with the tie that binds, specifically in 'The Awful Truth' and 'My Favorite Wife.' Their turnabout in Columbia's 'Penny Serenade' is something less than fair play. Here the comedy team produces a sentimental film that, sniffle for sniffle, ranks with the best in the tear-jerker class ... But Stevens' threwd direction and the sincerity of the Dunne-Grant performances restore order and credibility."