Lady In A Jam - 1942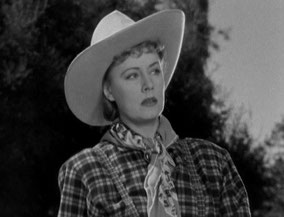 Universal - 78 minutes - 06.19.1942
Cast: Irene Dunne (Jane Palmer), Patric Knowles (Dr. Enright), Ralph Bellamy (Stanley), Eugene Pallette (Mr. Billingsley), Queenie Vassar (Cactus Kate), Jane Garland (Strawberry), Robert Homans (Faro Bill), Samuel S. Hinds (Dr. Brewster) and others
Producer/director: Gregory LaCava, Assistant director: Joseph A. McDonough, Screenplay: Eugene Thackrey, Frank Cockrell and Otho Lovering, Photography: Hal Mohr, Art directors: Jack Otterson and Martin Obzina, Costumes: Bernard Newman from I. Magnin & Co., Editor: Russell Schoengarth, Music: Frank Skinner, Musical director: Charles Previn, Sets: R.A. Gausman, Sound: Bernard B. Brown
Notes: Planned as a follow-up of the succesful teaming of Irene and Gregory LaCava in "Unfinished Business" (1941), "Lady In A Jam" failed at the box-office. According to Universal publicity materials LaCava worked with an unfinished script - not really unusual for him - but obviously this time his working method of improvisation and frequent re-writes did not work out. 
"Lady In A Jam" marks the only time that Irene stayed on location. Five of the total of nine weeks for the filming of the production took place at the Superstition Mountains, thirty-five miles east of Phoenix, Arizona. According to Hollywood Reporter, the site was a real "ghost town" with eight functioning buildings including the "Last Hope Saloon." 
After "This Man Is Mine"(1934) and "The Awful Truth"(1937), "Lady In A Jam" was Irene's last co-work with Ralph Bellamy.
Reviews:
The New York Times, 09.11.42 "Universal wasn't kidding when it tagged Irene Dunne's new picture 'Lady in a Jam.' For never, in our recollection, has the generally delectable Miss Dunne made to appear to less advantage than she is in this vapid confusion..."
Newsweek, 07.13.1942 "In a uniformly good cast, the mainstay is Irene Dunne, whose Jane Palmer is a charming, inarticulate nitwit who goes bankrupt... Whether she is panning for gold that isn't there, encouraging a lovesick cowboy..., or merely baffling saner folk, the star doesn't miss a flutter-brained inflection of her role."