A Guy Named Joe - 1943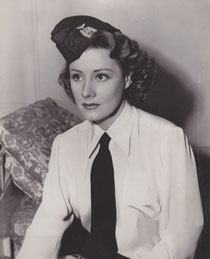 MGM - 118 minutes - 12.24.1943 New York/March 1944 USA
Cast: Spencer Tracy (Pete Sandidge), Irene Dunne (Dorinda Durston), Van Johnson (Ted Randall), Ward Bond (Al Yackey), James Gleason (Colonel "Nails" Kilpatrick), Lionel Barrymore (The General), Barry Nelson (Dick Rumney), Don DeFore (James "Powerhouse" Rourke), Henry O'Neill (Colonel Hendricks), Addison Richards (Major Corbett), Charles Smith (Sanderson), Esther Williams (Ellen Bright) and others
Director: Victor Fleming, Producer: Everett Riskin, Screenplay: Dalton Trumbo, Frederick Hazlitt Brennan, Chandler Sprague, and David Boehm. Photography: George Folsey and Karl Freund, Art directors: Cedric Gibbons and Lyle Wheeler, Costumes: Irene, Music: Herbert Stothart, Song: Roy Turk and Fred Ahlert; Special effects: Arnold Gillispie, Donals Jahraus and Warren Newcombe, Technical adviser: Major Edward G. Hillery
Notes: Irene's only co-work with Spencer Tracy turned out not to be the most pleasant experience of her career. According to an interview Irene gave in the 70s, Tracy wanted Katherine Hephurn for the part and "So when I showed up Spence was rude, brusque and even made a pass at me. Me! And Vic said he'd settle down but it got worse and I called up (studio head) Mr.(Louis B.) Mayer and laid down the law. I said I thought MGM was a professional place." However, MGM turned out to be indeed a professional place. (complete interview with James Bawden)

On March 31 1943, Van Johnson, who started shooting his scenes about three weeks earlier, was seriously injured in a car accident. At first the press announced that Johnson was in a critical condition and would be replaced but a news item from April 21 reported that he was recovering quickly and would soon return to his role. Even so,  he didn't resume work till July. Although the MGM executives wanted to replace Johnson, Spencer Tracy, a friend and mentor of the young actor, insisted that they shoot around Johnson's scenes during his convalescence. Because of this time delay Irene started working on "The White Cliffs Of Dover" and utimately worked parallel on both films - a situation she later on described as follows: "I always believed in my characters. I lived them. So being two different people in one day unnerved me to no end." ("A Visit With Irene Dunne", 1977)
According to a file on the film in the National Archive, the U.S. War Department Bureau of Public Relations wasn't impressed with the first submitted script "A review of this manuscript indicates that no degree of supervision could make this picture a contribution to the war effort..." The second revised script was declined because "... The presence of hovering ghosts of deceased pilots, and the unreal, fantastic and slightly schizoprenic character of the scenario hardly combine to produce a sensible war-time film diet."(Edward L. Munson, Jr. Chief of the Information Branch) Lastly the War Department accepted in November 1942 the third submitted script and even promised cooperation. 
Another problem arose because the Production Code Administration didn't accept the original intended end. In this version, Dorinda died after she destroyed the ammunition dump and was reunited with the ghost of Pete. This end implied in effect suicide and was thus declined by the PCA. Hence in mid-November 1943 additional scenes and retakes were shot to change the ending to the existing release. 
Though this changed ending wasn't the favorite of the critics ("And they let go in a finish that is as foolish as anything I've seen" New York Times critic Bosley Crowther), "A Guy Named Joe" one of the top ten box office films of 1944 and took in $5,363,000 with a negative cost of $2,627,000. 
According to the Margie Schultz Bio, the script "called for Irene to sing "It's Three O'Clock in the Morning," a song she openly disliked. She suggested they revive an old song instead. When the music deparment gave her a choice between "My Wonderful One" and "I'll Get By," she selected the latter, which became a big hit after the movie."
Here is Irene's rendition of "I'll Get By"
In 1989, "A Guy Named Joe" was remade by Steven Spielberg as "Always" with Richard Dreyfuss and Holly Hunter in the leads.
Reviews:
New York Times, 12.24.43 "... Miss Dunne is as lovely and fetching as we've seen her - maybe even a little more so."
Variety, 12.29.43 "... Miss Dunne is nifty to look at and turns in a sufficiently restrained but emotionally convincing portrayal."
Time, 01.10.1944 "It would succeed more thoroughly if Miss Dunne's grief and her scenes with Van Johnson were not... so smoothly soft peddled. But Miss Dunne's early scenes with the living Pete have unusual friendliness."