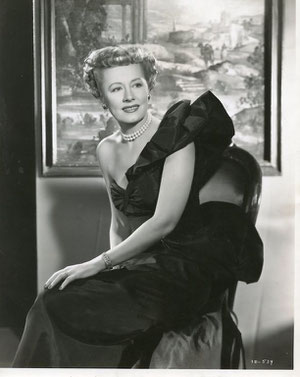 1950 - Publicity for "Never A Dull Moment"
Irene Dunne portrays a New York songwriter who falls in love with a rodeo star in RKO´s "Never A Dull Moment", which stars Miss Dunne and Fred MacMurray and features William Demarest, Andy Devine, Gigi Perreau, Natalie Wood and Philip Ober. Produced by Harriet Parsons and directed by George Marshall, the screenplay of the delightful romantic comedy was written by Lou Breslow and Doris Anderson.
Born in Louisville, Kentucky on a December 20th, Irene Dunne has been one of the top stars in Hollywood ever since her first big screen success in RKO´s "Cimarron."  Devoted to music from early childhood, she studied at the Chicago Musical College after attending Loretta Academy in Louisville. When her musical education was completed, Miss Dunne journeyed to New York with hopes of launching a stage career. She was highly successful, her singing landing her a part in "Irene," and later in "Clinging Vine" and "Sweetheart Time."  The apex of her efforts was reached when she was signed for a stellar role in the Broadway production of "Show Boat."  This brought her to the attention of Hollywood and the role in "Cimarron" which established her as a lasting success. Five feet, five inches tall and weighing 115 pounds, Miss Dunne has chestnut hair and grey eyes. She is married to Dr. Francis Griffin and they have a fifteen year old daughter, Mary Frances.
(press text)