My Husband Is My Best Friend
Often, Irene Dunne feels, we dwell too much on love and forget that husbands and wives can also be friends
by Adele Whitely Fletcher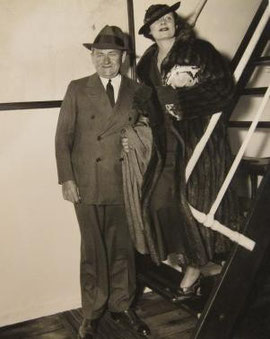 The really successful people in this world are those who waste neither time nor energy grousing over the conditions that exist in their lives but, instead, get busy and shape them into a happy pattern.
Which brings me to Irene Dunne. For Irene has taken her marriage, which circumstances projected in a pretty difficult pattern, and made something darn swell out of it. A husband and wife seperated most of the time by three thousand miles might be expected to grow apart. But, after four years of this state of affairs, Irene Dunne and Doctor Francis D. Griffin are as close and as good friends as any two people you know. And far closer and much better friends than entirely too many married people you know.
The first evening Irene and Frank Griffin were in New York this last time, after their trip from California by boat, he took her to the theatre.
"Let's run over and see 'Personal Appearance'", he suggested at about eight o'clock when the last of the friends who had dropped in to see them had left. "Not dress? Okeh. I'll call down and have them reserve seats." And he was at the telephone.
"Personal Appearance" , one of Broadway's most sucessful comedies is, you know, the story of a movie star, a flamboyantly temperamental upstart who mushrooms to fame. There are many who feel there has been no star, like the lady Gladys George portrays in this play, since the talkies. Claiming, therefore,  that the play is dated. Be that as it may, it remains good fun and no one laughs harder than the movie stars who go to see it.
The Griffins sat well down in front. But because they hadn't dressed and because they had come in quietly no one recognized them. They were as alone in that theatre as any other couple who moved closer and reached for each others' hands when the lights went down.
EVERY TIME there was a little jibe at the expense of the movie star, Frank Griffin would turn to Irene and she would feel his eyes bright with laughter.
"Must I do everything myself?" the movie star in the play asks in an harrassed moment while at least six people wait on her, hand and foot.
Irene felt a nudge in her side. And she remembered times, when her secretary had neglected to send a check for the telephone bill or her gardener had failed to tug up the chrysanthemums against the tugging wind, and when she had said something very similar.
She pretended, however, that she didn't know what that nudge meant. She continued to sit there very seriously for a second or two. Then, as usual unable to resist his salty laughter, she began laughing, too. And when she couldn't find her handkerchief he had to give her one of the huge affairs she has made especially for him, since those sold in the shops rarely come large enough to please him.
As the final curtain fell they hurried out into a taxi and back to their hotel. Then, while Irene went to change into something comfortable, Frank Griffin lit the electric grate fire. For the sake of cheer.
"You wouldn't have any good Irish reason for taking me to that particular play on our first night in New York?" Irene challenged him over their cheese sandwiches and beer.
HE SHOOK his head soberly. "Certainly not!" He was as innocent as Irishers can be when they've been up to tricks.
"That's what I thought", Irene said sweetly. It was a game two could play. "That's exactly what I thought!"
I lunched with her on one of her crowded days in New York. Her suite had the atmosphere it always has. New books were around. Music stood open on the piano which is moved into any suite she occupies, simultaneously with her trunks. Red tulips and purple lilacs were lovely against the pale green walls. And the jonquils which filled a silver bowl were no brighter yellow than the sweater Irene wore with a black tailored skirt.
She shuffled a batch of photographs which had arrived, photographs taken of her and Frank Griffin during their voyage from California - on shipboard in Panama, in Cuba.
"These pictures are frightful of Frank", she said indignantly, letting her luncheon grow cold. "Look at this! And do look at this! Why in this one he doesn't even look shaved! He mustn't pose for the news photographers again. They never make him  look  himself at all."
There also were clippings, clippings which heralded this trip as a second honeymoon.
"A second honeymoon", Irene laughed. "As if there ever could be such a thing with the same man!"
I asked exactly what she meant. And she told me, as simply and directly and honestly as it is her habit to say the things she thinks.
"A honeymoon is wonderful, of course", she went on, smoothing her sweater contemplatively. "It's the time two people go off alone and do their utmost to remain alone. Not only because they are so new and exciting to each other. But because it's their chance to draw closer and prepare for the intimacy of the every day married life which lies ahead of them.
"However, feverishly romantic though it may be, it's also apt to be something of a strain. Because the two people haven't yet learned to relax with each other. Because they haven't had time to become truly good friends. Because they don't know all the little things about each other which only the intimacy and affectionate understanding of years brings."
She began pulling a great flat package out from behind the sofa, untying the cord, crackling the big stiff sheets of paper which wrapped it.
"It's much more fun to have been married for a matter of years, I think", she went on. "Then you have a dozen little agreements about things and a dozen differences of opinion about other things. Then you know more of what the other fellow is thinking and feeling, irrespective of what he may be doing or saying for courtesy's sake or some other good reason. Then you are both interested in meeting people and speculating about them later when you're alone. Then everything that happens to you, even a trifling event, is enriched by some similar thing you've already shared."
She had the package undone. In it were architect's drawings of a house to be built in Holmby Hills, provided the studios remain in Hollywood. Holmby Hills lies beyond Beverly and Bel Air. It is where Freddie March has built his charming new house. And where, just across from the Griffin acres, Claudette Colbert is breaking ground for her new house.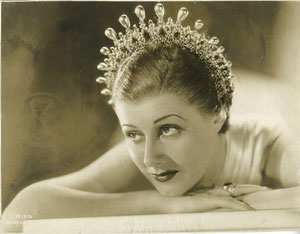 THERE was a view of the house from the front. Another showed the side and the patio. There were views of the lawns and gardens. And detailed views of the different rooms as the would look when the house was completed and they were curtained and furnished, with fires burning on the hearths and flowers from the cutting garden standing about in bowls.
"House of Doctor and Mrs. Francis D.Griffin", was lettered on each drawing. Not "Home of Irene Dunne" mark you. And not even "Home of Irene Dunne and Doctor Francis D. Griffin". But what it really is to be, what their architect knew after talking to these clients of his only a few minutes. For away from the studios, in spite of all her increasingly bright fame, Irene Dunne isn't at all the movie star, a celebrity. She is Mrs. Francis D. Griffin. First, last and always. Which undoubtedly had a great deal to do with the greatest friendship in the business world which I'll come to in good time.
I kept remembering, a day or two previously, when Irene had entertained representatives of the Irene Dunne Fan Club at a tea party. There had been a pretty girl there who came from the Yonkers contigent, a pretty girl of about fifteen, with eyes as deeply blue as the dress she wore.
A dozen times that afternoon, with an adoring nod in Irene's directíon, this girl had gone out of her way to explain "She is my aunt, you know!" And later when I asked her, "How does it feel to have a movie star in the family?" Dorothea Griffin admitted with lovely naiveté, "Well, sometimes I wish Aunt Irene wasn't a movie star. I get jealous when I have to share her with a lot of people.  Like this afternoon for instance."
And I had thought that movie stars, if not prophets, sometimes are appreciated in their own countries, even in their own families. And that's  something!
"You'll notice", Irene indicated the patio on the drawing, "that we've planned this an extra living-room. We like to have breakfast outdoors on Sundays. And to read outdoors on warm evenings. It's enclosed on two sides by the wings of the house and on the third side by the loggia. The front looks out over the lawn straight to the ocean. See, the hill drops off here, just beyond our property. There never can anything block our view, to shut off the sea."
Frank Griffin won't be in California to live in that house all the time. Many months in the year he is obliged to be in New York where his practice is located. But it pleases him, sentimental as the next Irishman, to think of Irene in their home. And to look forward to the years ahead when they'll both find lives less busy and be there together all the time.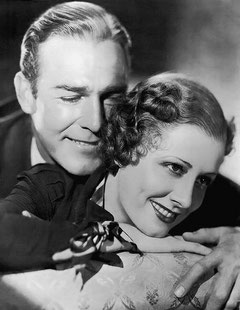 IRENE and I talked about her marriage. Of how she had taken what so easily might have become a marriage of inconvenience and shaped it into something fine.
"I admit", she said," the separations are pretty lonely at times. They's be unbearable, really, if it weren't for Frank's frequent telephone calls, put through after midnight when we can afford to talk much longer. But now that we are together for the time being, and I'm able to view our months of separation with some perspective, I'm not sure but that they haven't served us well."
"Perhaps if we'd been together all the time during the last four years we wouldn't be such good friends. Perhaps together all the time we'd come to take each other more for granted; and find less zest in each other's company. Frankly, I'd almost be afraid to have things an other way than they have been. For fear it wouldn't have worked out as much fun.
"A month from now, of course, when I'm back in California and Frank is here and I'm missing him more than ever because I've just left him, you'll find me singing another tune. I'll be complaining that it's absurd for married people to admit three thousand miles to separate them. For the hysterical moment I'm even likely to be considering giving up my work. Although I know in my hear that I couldn't, that it's become too much a part of me."
As she talked I remembered some of the things which have forged the bond stronger between her and Frank Griffin. There was the time, some years ago, for instance, when she spent an entire Sunday rehearsing for her screen tests of "Cimarron" which she was to take the next day, although RKO were giving her these tests simply to please her, having no idea that she, a musical comedy star in their minds, could properly play Sabra Cravat.
On that day Frank Griffin remained with her closed in her room. He knew how much this meant to her. He watched the different effects she tried out and , now and then, helped with a suggestion. His cronies kept the telephone ringing constantly. They wanted him to join on the links. Suppose Irene did have to work, that was no reason why he had to stay home. They didn' understand.
I alas remembered Irene's frantic trip across the continent after the telephone call which advised her he had been rushed to the hospital for and appendicitis operation. At this time the newspapers insisted that, under cover of being in New York because he was ill, she had come on to ask for a divorce. Considering Frank Griffin's temporary weakened and depressed state those stories might have caused an upset. But because it was Irene who read him those stories, laughing, joking, meeting his eyes with her own eyes level, they could do no harm.
So it goes. It isn't, after all, so much the number of hours. For with the years, her marriage to Frank Griffin has grown into that which can only exist in marriage and is at the same time the ultimate of marriage, namely the greatest friendship in the world.
(Modern Screen, August 1935)