Projections - Irene Dunne
by Elizabeth Wilson
When Irene Dunne was a kid in pig-tails, they called them "braids" at the Loretta Academy in St. Louis, and was being subjected to the subjunctives of the Latin poet Vigil, she invented a game, a very clever game, which her class-mates heartily endorsed. It was called "Stalling Teacher." The idea being that if she and the other victims of Latin IV could think of enough beguiling questions (Is it true what they say about Priam?) to ask teacher, who the year before had made the Grand Tour and was a perfect pushover for the glory that was Rome, the hour would pass without a single one of them being called upon to translate the day's lesson.
 "Is there much of the Roman Forum left standing?" Irene would ask in wide-eyed innocence - not that she cared a row of beans about the Roman Forum but she knew it was good for 15 minutes - and if Gladys and Sue would only get their cues right it might even be good for the entire hour. Well, the years passed as years have a habit of doing, but Irene Dunne still plays "Stalling Teacher" - except that with no teachers to stall now she takes it out on interviewers.
 Interviewing Irene Dunne is an achievement worthy of an Academy Award or something. Oh, she'll see you all right - none of that silly Garbo mystery business - and she'll not keep you waiting a moment, and she'll greet you cordially with the most musical voice you've ever heard, and she'll captivate you, but completely, with her beautiful blue-grey eyes, and she'll take you by the hand and lead you all over the new home she has just built in Holmby Hills, and with flattering interest she'll listen to your opinion on drapes and things, and she'll pour tea for you out on the patio, and it'll be so gay and clubby and such fun - but after you've gone you'll realize to your horror that you don't know a thing about Irene Dunne. In the fan writer's diary Irene is listed as "Terrible copy - but awfully charming." No matter how you look at it, Irene doesn't like to talk about herself (there are people like that, I'm told, but I never expected to meet one in Hollywood) and she can think up hundreds of cute little tricks to stall off an interview. They usually work. But me now - I'm the horrid type. "Miss Dunne, please translate the next five lines. The Roman Forum? To heck with the Roman Forum! GIVE!"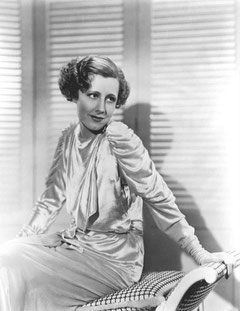 But even after, through sheer determination, mingled with a bit of brutal slave-driving, you've started Irene talking about herself - "giving" as we say in the "trade" - the way of the interviewer is still not easy. Suddenly in the midst of the most exciting story about the time she got lost in Paris and a taxi driver took her to the Latin Quarter instead of the Ritz and there he was leering at her - leering at her - there is a complete silence. Like a preview night, when the sound track breaks down. The audience is there, and the actors are moving about on the screen, but it's all kind of eerie because there isn't any sound. Miss Dunne, dear fans, is day dreaming. And on my time, too. Now I suppose the ilk of Emily Post would call this rather rude, and doubtless the ilk would be right, but I call it a jolly idiosyncrasy for it's such fun to see Irene struggling to recall what she was talking about before she wandered away, and to hear her laugh like a guilty child when I say, "Remember me?"
 This day dreaming of Irene's is one of her worst faults, she admits, but it has been a part of her so long there's nothing she can do about it. Her best friends in Hollywood know that if Irene is expected for dinner and seven o'clock comes, and seven-thirty and eight, and no Irene, that is the mere fact of Irene's getting lost again. She loses so easily. Irene gets in her car (she adores driving herself) and with the best of intentions starts out for her friend's home for dinner, but somewhere along the way she starts day dreaming, and when she comes to she invariably finds herself lost in the Hollywood Hills, San Francisco or mayhap well on her way into the Arizona desert. She has no sense of direction, and that, combined with a bit of fancy day dreaming, makes dining out for La Dunne a complete gamble. Well, what is she thinking about that she can forget time and place and people? Oh, anything. Is the kitchen stove too near the pantry door? Should she pay all the money for a Queen Anne secretaire? Did her fans really like her in black-face? Did they consider it disgracefully undignified? Etc.
 When she was a child most of her day dreams were about the time she would be a famous prima donna with a feather fan and have the adoring public swooning at her feet, or else about gay adventures with her six tall handsome brothers arriving just in the nick of time to save her. Now Irene never had six brothers. She has one brother, younger than herself, to whom she is devoted, but she never had six brothers. But she imagined them so much as a child that for a while there she actually found herself telling strangers, particularly strangers who frightened her, that she had six brothers who would arrive any minute. Now Dr. Freud, the old pet, would probably find a very adequate explanation (perhaps more than adequate if I know Dr. Freud) of Irene's big brother complex, but personally I prefer Irene's own simple analysis of the case:" I don't know why I was always pretending that I had six brothers. Except that I liked to go to parties, and I was shy, and wanted to assure myself of plenty of escorts." That's it, dear reader, in a nutshell, and we don't need Dr. Freud, Irene Dunne is a Party Girl with vine leaves in her hair. And don't let that lady-like reserve fool you. 
 The nices things in life have always happened to her at parties. Dr. Francis Griffin for instance. She'll never forget the night she met him, and how near she came not to meeting him. New York was in the midst of one of its severest snow-storms that particular Saturday night, and Irene was completely worn out after the evening's performance and besides she thought she was taking cold, and you know how careful singers have to be, so after the last curtain call she scurred out the stage entrance, jumped into a taxi, and dreaming (what again!) of a hot bath, her nice soft bath, and a book, she arrived at her apartment to find the living room full of gay young people, hell-bent on a party. "But I can't go!" graoned Irene. "But you promised!" they shouted over the White Rock. Well, you can't argue with party-minded people, you know that. So Irene slipped into a red evening gown and a mink coat and still complaining bitterly that she'd much rather be in bed, that she didn't want a scotch and soda and would probably catch her death of cold in the snow, left for the party.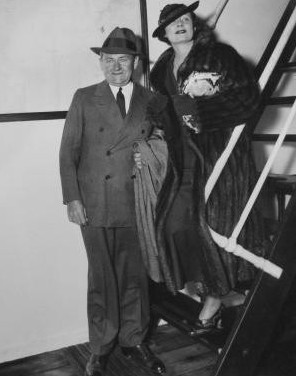 The party was at the Biltmore Hotel, and Irene cheered up considerably when she heard the gay dance music. It was a great year for stags, and there were dozens of them lined up against the wall all trying to figure out an introduction to the beautiful auburn haired girl with the big eyes ( were they blue or gray or green?) And Irene, who knew exactly what to do with those eyes, was quickly the belle of the ball. (Entre nous, oh completely entre nous, she's a bit of a flirt.) Around and around the dance floor whirled La Flamme. It was her first red evening gown, and her last, though she often wonders why she never bought another, it was so much fun.
 "Where have you been all my life?" asked the first stag who managed an introduction and a dance. "I'm from Louisville, Kentucky," said Irene. "Where have you been all my life?" asked the second fortunate young man. "I'm from Madison, Indiana," said Irene. "Where have you been all my life?" asked the third young man. (No, there wasn't much orginality among the smart set during the speakeasy era.) "I'm from St. Louis," said Irene. But the fourth young man took her completely by surprise. "The boys think your are teched in the head," he said casually. "It seems that you don't know where you're from. You've given each of then a different answer. Is it an old Southern costum?" "I beg your pardon," said Irene becoming rigid with dignity, "I'm not teched in the head. I was born in Louisville, Kentucky. I lived in Madison, Indiana. I was educated in St. Louis and Chicago. And I don't see that it is anyone's business anyway." At the end of the dance, Dr. Griffin said, "May I have your number?" With hauteur Irene drew herself up for the usual squelch, discurteous,  "I don't give my phone number to strangers." But imagine her surprised horror when she heard her voice saying, and not so coldly either, "It's Plaza 5048."
 It was three months before Dr. Griffin called her. Irene had just about given up hope. Then it came at last. "Hello, there," he said, "Do you remember me?" "Yes," said Irene, all a-flutter, "I-I mean, no."
 Later, much later, after they had had many dates together Dr. Griffin told Irene that he had decided that first evening at the Biltmore that she was the girl he was going to marry. And that he had gone to a jeweler's the next day and selected a diamond engagment ring for her. But there was the career problem. Dr. Griffin was firmly established as one of New York's leading physicians - and he didn't like the stage. And there was Irene singing away beautifully in one successful musical comedy after another - and with one eye still sort of hopefully on the Metropolitan.
 It was several years before Irene finally accepted the ring. They were married July 11, 1927, in a church on East 83rd Street, and it was the kind of wedding that every girl intends to have - and usually doesn't. Irene had definitely abandoned her career. She was now Mrs. Francis Griffin. They honeymooned for many months in Europe and Irene went on a mad buying spree - she bought linens, antiques, drapes, vases, all kinds of beautiful things for the home they were going to build in New York. (And which eventually was built in Hollywood eight years later.) Back in New York again Irene tried to keep busy with decorators, designers, architects, and the servant problem - and wouldn't even allow herself to look in the direction of Broadway, well, maybe, just a little peek occasionally.
 And then one of those New York foggy mornings when Irene was trying to decide whether she'd go over to Bergdorf-Goodman's and look at dresses, or just stay in bed, Anita announced that Mr. Ziegfeld was on the phone. It was the most exciting phone call Irene had had since Dr. Griffin had said, "Do you remember me?" - and before she had hung up the receiver she had promised to play "Magnolia" in one of his companies of "Show Boat!" Her heart beat fast, the blood coarsed madly through her veins, she felt like a star on an opening night - and then she thought, "What will my husband say?" If it had been any other play Irene would not have considered it for a moment - but "Show Boat" was her own flesh and blood, it was a part of her.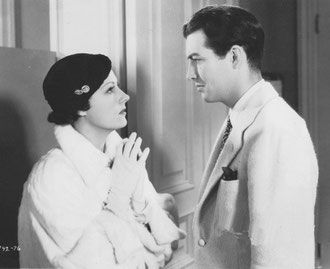 Irene's father, Captain Joseph J. Dunne [sic], was a builder of Ohio River steamboats and as a child she had spent many happy days with him on the Mississippi and Ohio rivers, and she had never gotten over her nostalgia for the river country. Captain Dunne was a gay, romance-loving Irishman, with a quick temper and sharp wit, but, despite the temper, everyone who came in contact with him adored him, and little Irene fairly worshipped the ground he walked upon. He died when she was twelve - up until then her life had just been one continued laugh. Yes, Irene couldn't resist "Show Boat." After all she was "Magnolia Ravenal." Dr. Griffin proved himself then, and later, a very understanding husband. If a man marries a girl who had the theatre in the blood, he needs must be very understanding.
 Irene played "Magnolia" in the Chicago company of "Show Boat" and was nothing short of a sensation. Naturally it didn't take those Hollywood taltne scouts long to send their cards backstage to her dressing room, and at the end of the run Irene signed a contract with RKO to make pictures in Hollywood. In her new Holmby Hills home today there is a green chair (and not much else unless the furniture has arrived from New York since I was there) which Irene calls her Problem Chair, for she sat in it the night she talked over her return to the stage with her husband, and again the night she tried to make up her mind whether or not she wanted to come to Hollywood. The poor old Problem Chair will probably get pushed around unmercifully by all the handsome New York and European furniture that Irene has bought for her magnificent new home - but, after all, what with being one of the most popular and glamorous screen stars in Hollywood today, what with her first home since she was a child, and what with Dr. Griffin managing to spend more and more of his time with her in California, Irene hasn't many problems to settle now, has she? Well, if you knew actresses like I know actresses you'd know that no matter how happy and successful they become there are always problems. The green chair remains in the library.
 When Irene arrive in Hollywood in 1930 there was a great Anti-New-York-stage-actress drive on, and Hollywood didn't warm up to her one bit. In fact Hollywood was rather rude. They called her "cold." They called her "aloof." Worst of all they called her a "lady." She was shoved soon afterwards into a little number called "Leathernecking," and she had just about decided that she had made a dreadful mistake and had better call the whole thing off when she was handed one of the plums of the year, the feminine lead opposite Richard Dic in "Cimarron." When "Cimarron" was released in Februrary, 1931, Irene automatically became a star, with a new contract and a big salary.
 With the exception of a few bad pictures, Irene has had one successful screen production after another, all of them tremendous box-office, and all of then adding to her steadily increasing popularity. Most notable of them have been "Back Street," "Silver Cord," "Stingaree," "Age Of Innocence," "Roberta," "Magnificent Obsession" and "Show Boat." When she did the famous Shuffle dance in "Show Boat" the preview audience went mad. Irene could hardly believe her ears. "They like it," she gasped to her mother, "and I thought they would be horrified." When she tried to leave the Pantage Theatre after the preview that evening she was almost torn limb from limb by her adoring fans - it proved one of the nearest riots they've ever had in Hollywood.
 Strange to say, Irene didn't go on the stage because of the glamour of the theatre, the footlights, and grease-paint, and the thrill of curtain calls, and the excitement of it all. She went on the stage simply because she had to make a living, and she had a voice, and that seemed the most natural thing to do. After her father died the Dunne family fell upon hard times and Irene realized that her mother and young brother were dependent upon her. She had always wanted to study for opera but she knew that this took years of study and thousands of dollars, and it wasn't for the likes of her. She had to be a wage-earner.
 Her first experience with the "theatre" had been at a Chautauqua in Madison, Indiana, when she had played "Mustard" in "Midsummer Night's Dream." It seemed very important to her then, but two years ago whe went to the Hollywood Bowl to see the Max Reinhard production of "Midsummer Night's Dream" and to save her life she couldn't even find "Mustard." Except for the usual plays at school Irene knew nothing about the stage when she arrived on Broadway to seek a career. In fact her only equipment was a feather fan with an amber handle which some one had given her when she left home.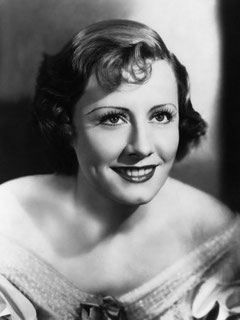 But she soon discovered that there was more to being an actress than a feather fan with an amber handle. After plenty of pavement pounding she was given a part in the road company of "Irene" - and, after that, success was more or less hers. Despite publicity to the contrary she has never appeared in Opera. She would like to some day. She spent a season with the Civic Opera Company (which isn't opera) in Atlanta, Georgia, and fell desperately in love with that Southern city. Being from Altanta myself I happen to know that practically every eligible male in town proposed to Irene while she was there.
 Irene claims her worst fault is a quick temper and a sharp tongue, which she inherited from her Irish father, and that it is always getting her into trouble. "I'm much better now though," she says. "And soon I think I'll have everything under control." I suppose that you, like myself, are one of those dumb people who can never think of the right answers when the air grows tense and drama rears its ugly head. Only after we go to bed at night do we think of something very crushing that we might have said, "Oh,oh," we groan in mortification, "Why didn't I think of it then!"
 Well, dear reader, that's where Irene Dunne puts one over us. Irene always thinks of that devastating, cutting, crushing, biting remark at ths sense of action - and not hours later in bed. Irene is caustic, and can draw blood with a word. Personally, as one of our most dejected bed-writhers, I envy Irene for her sarcasm. I've always wanted to come off best in a conflict or temper instead of just choking a "You-You-" and bursting into tears. But Irene assures me that it isn't any fun at all. Whereas we groan all night in bed because we couldn't think of anything clever to say at the moment, Irene groans all night in bed because she did, and she's awfully sorry she did. So you see, you can't win. "You have no idea," said Irene, "how it feels to know that you've cut someone to the quick. I'll never do it again, never, never." 
 Irene can slam a good door and throw a good hair-brush, too, when her temper flares, but she has such a grand sense of humor that hardly have the pictures fallen off the walls and the hair brush cracked in two parts before she is dying laughing at herself. She is awfully ashamed of these little temperamental outbursts and doesn't like to talk about them - but I always say an actress without a temper isn't worth her salt. I suppose I'm not the right kind of an influence but personally I sincerely trust that Irene keeps both her temper and her sarcasm. They're safety valves for an emotional actress. And, after all, acting, particularly when singing enters into it, isn't the easiest thing in the world.
 Irene is defenitely one of the Great Worriers of Hollywood. Not as good as Fred Astaire and Bill Powell, but almost. She can, and does, worry about practically everything, though you'd never know it by looking at that beautiful, serene face. Ironically enough, when Irene was at the Loretta Academy in St. Louis she organized a club the sole purpose of which was the to have fun. It was strictly against the rules to worry about anything. It was called the "Mischievous Maids Club" and all the members limited exclusively to ten, wore little gold pins with MMC mongrammed on them. Irene was the president and one of the few members who never had to pay for forfeit for worrying. Well, all I can say is that she had certainly been making up for lost time.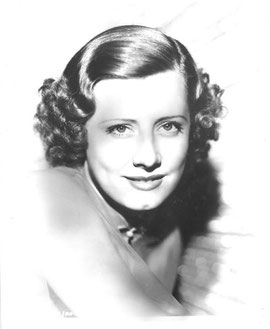 But, of course, Hollywood is a far cry from Loretta Academy. "But honestly," Irene told me just the other day, "I'm not going to worry any more. It isn't worth it. Look at 'Show Boat.' I worried myself sick over it. I knew the public wouldn't like it. But they do and it has broken all kind of records. Yes, I decided while I was in Europe this summer that I'd never worry again. I shall laugh blithely all through 'Theodora Goes Wild.' That's the picture I'm doing now for Columbia, you know. It's different from anything I've ever done before, and it's a comedy, and I'm going to laugh and be gay and never give a thought to worry." (Entre nous again. I was at the studio the second day of production and I fear that our little Irene is worrying again.)
 "Mikes" and boats-that-might-sink-in-the-night frighten Irene more than anything else. She loathes speaking over the "mike" and this fear of it has kept her away from many a premiere. The lurking "mike" and the unctuous young man who says, "Folks, we have with us tonight Miss Irene Dunne. Irene say a few words -" can make her jittery for days afterwards. She's the type of person who knows exactly where the life-belts are buried on a boat, how to put one on, and just what life boat she's supposed to dash to when the danger siren rings. Her father taught her all these things when she was a little girl gallivanting around with him on the Ohio river boats, and though it's an excellent thing to know it's made Irene extremely suspicious of ocean travel.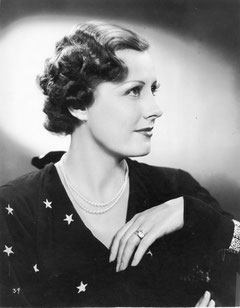 She crossed on the Queen Mary when she went to Europe this past last summer with her husband and her mother and she thought it all very beautiful and grand - but the foghorns were just as frightening as ever. One groan out of a foghorn and Irene is prepared for the worst. She admits, with the proper degree of modesty, that she is an excellent cook. She once won ten dollars at a County Fair in Indianapolis, which was the prize for making the best doughnuts, and when you can make nice flaky doughnuts, says Irene, you've really arrived as a culinary artist. She likes to talk long walks accompanied by her police dog, Major, and she is considered one of the best golfers of the cinema colony, with the rare destinction of being a member of the hole-in-one club. She also has the rare destinction of being the only movie star in Hollywood to give a party without any furniture in the house. It seems that when she returned from Europe recently she was so eager to be in her first real home that she "moved in" before the furniture arrived from New York, and being in the mood she proceeded to have a cocktail party. (Didn't I tip you off that she was a Party Girl!)
 It's no pose with Irene that she hates to talk about herself. She really is shy. So, naturally, when she first arrived in Hollywood the fan writers had quite a time with her, and not being able to worm out any exciting facts about her they dismissed her with the word "colorless." Now actually, on the contrary, Irene Dunne is the most colorful actress in Hollywood. And the most gracious. And color and graciousness in the land of the Garbos and the Hepburns, rarely go hand-in-hand. It's a treat to know Irene Dunne. As a matter of fact it's a lot of fun.
(Silver Screen, November 1936)