Everyone Loved Irene
      Arriving in Hollywood in 1930 with her first and only husband,
            Irene Dunne built the modest house she would die in.
     As a friend recalls, nothing about the five-time Oscar nominee,    
             whose leading men included Cary Grant, Spencer Tracy,
     and Charles Boyer, was typical, from her wardrobe to her attitude
                                     BY WILLIAM FRYE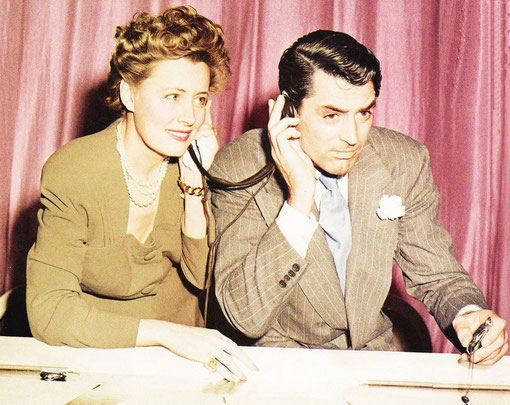 In 1980, I gave Irene Dunne a copy of Gloria Swanson's autobiography, Swanson On Swanson. A few weeks later she telephoned and said, "Bill, dear, you have done me the greatest favor."
 "What is that?," I asked.
 "I'll never have to write my memoirs now after reading this. She had six husbands, at least six lovers - why, my life is so dull compared to hers! I've had one husband, one daughter, one house and no lovers."
 For someone who had starred in more than 40 films, sung on Broadway before that, played opposite a dozen of Hollywood's matinee idols, been nominated five times for an Academy Award, and served at the United Nations under President Eisenhower, that was a real understatement, but it was typical of Irene. Always charming and understated, she was as far from the average person's idea of a movie star as you could get.
 Once, she even took the bus tour of the Hollywood homes, wearing a cotton dress, an old sweater, a mousy hat, and dark glasses, and accompanied by her African-American houseman, Melvyn. Not a soul recognized her, she told me that evening when we were having dinner together. I said, "Good God, why would you ever do that?" She said, "I just wanted to hear what they had to say, especially about my house. Wouldn't you like to do it sometime?" I said, "No, I would not." She went right on:"We passed Zsa Zsa Gabor's house, and Eva Gabor's, and Frances and Edgar Bergen's  - all of them. Only about half of what they said was true. But it was fun!"
 When Irene and her husband, Frank Griffin, who was a dentist, arrived in Hollywood in 1930, they bought a lot in Holmby Hills for $10.000 and built a two-story house on it for $40.000. No swimming pool. No tennis court. That is where they lived until Frank died in 1965, and where Irene continued to live for the rest of her life. Griffin gave up his practice to be her business manager and to invest in real estate, and they became members of the Los Angeles Country Club and the Bel Air Country Club. They always socialized much more with the Los Angeles business community than they did with people in the entertainment industry. Under Frank's guidance, Irene made some very shrewd investments and became a wealthy woman. When Hernando Courtright bought the Beverly Hills Hotel in 1941, some of his friends, including Jimmy Stewart, Loretta Young, and Irene, invested in it. In 1954, when Courtright sold that hotel and bought the Beverly Wilshire, most of the original investors took their money out. Irene, however, left hers in, and when Courtright finally sold the second hotel, he got an enourmous price, so from her original stake of $200.000, Irene wound up with nearly $10 million. Jimmy Stewart told me at that time, "I wish I had followed Miss Moneybags."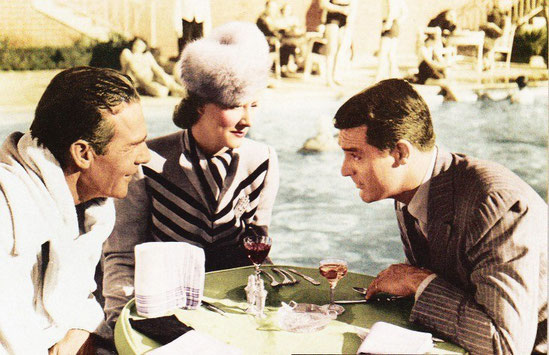 Irene never acted in anything I produced, but our friendship went way back - so far that I'm not quite sure where we met. I think it was in the mid-50s at the home of Jules Steine, the head of Universal Pictures and his wife, Doris. Over the years Irene and I had many fun and memorable times together.
 In 1967 we went to the Dorothy Chandler Pavillion at the Music Center in Los Angeles to see Katherine Hephurn in Coco, a musical about Coco Chanel. It was opening night, a black-tie affair, and the audience was keyed up with anticipation. Unfortunately, Irene and I were both in back braces, and we were sitting in the first row of the Founders Circle, so we needed an escort to take us to our seats. As we sat down, we each put on a pair of glasses. And as Hephurn came out and delivered her first line, Irene said, "What did she say?" I replied, "Irene, what are we doing here? We can't walk, we can't see, and we can't hear." After a rather dreary performance, we were invited to supper in the rotunda off the Founders Circle. We sat and we waited and waited and waited for Hephurn to arrive. When she finally did, she looked more than Peter Pan than Coco Chanel. As soon as she saw Irene, she made a beeline for her, crying, "My God, Irene, I haven't seen you in a hundred years!" Irene just looked at her and said, "Oh, Kate, has it been that long?"
 We visited the Music Center again for the opening of Marlene Dietrich's one-woman show. We had house seats provided by Dietrich's friend Marti Stevens, and we were asked to go backstage after the performance. I was a wonderful evening. Dietrich looked spectacular in a fantastic dress for which, I heard, she had stood 30 hours while it was being made at her. She gave a great performance, with music by Burt Bacharach. At the end of the show we were ushered backstage. It took a while, and by the time we got to Dietrich's dressing room we could hear a motor running. As the door opened, there was Dietrich, out of the fabulous $10.000 gown and in a white smock, vacuuming the rug. She turned off the motor, took a look at the two of us, and said, "Irene, are you in a brace?" Irene said, "Yes, I am. Does it show?" Dietrich replied, "Yes, because of the way you walk. Take it off right now. Take that brace off!" Irene said, "Marlene, that's quite impossible. I'll take it off when I get home tonight." After a rather brief conversation, we left the dressing room, and Irene's only remark to me was "She's bossy , isn't she? Very bossy."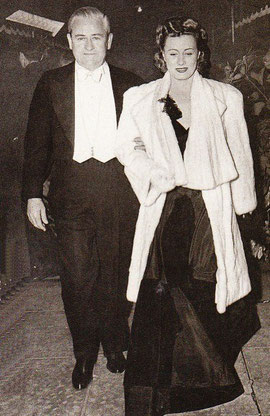 Irene starred opposite such leading men as Douglas Fairbanks Jr., Joel McCrea, Spencer Tracy, Rex Harrison, and Randolph Scott, but she is probably best remembered for the films she made with Cary Grant, the sentimental Penny Serenade and especially the madcap comedies The Awful Truth, for which she won an Oscar nomination, and My Favorite Wife. In spite of their chemistry on the screen, however, they never socialized. In fact, I don't think Cary was ever in Irene's house.
 Irene and I would sometimes see him at the Hollywood Park racetrack. Our friend the director Mervyn LeRoy was on the board of directors, and so was Cary, so we would frequently be sitting in the next box. One day Cary and I were at the betting windows, and he said, "You know, you are with one of the best actresses that Hollywood has ever had. And she's a great scene stealer." I asked him what he meant. "When you think you've got a scene going, and it's all yours, Irene can just move a finger or an eye or give a nod of her head and steal it." When I got back to my seat, Irene said, "I saw you talking to Cary." I said, "Yes, we were talking about you. He said you were one of the best actresses in pictures but you were also a great scene-stealer." There was a long pause. Then Irene said, "Oh, isn't Cary sweet."
Irene's favorite leading man was Charles Boyer. They made three films together, including Love Affair in 1939, for which she got an Oscar nomination. In 1978, Mervyn LeRoy and his wife, Kitty, gave a small dinner party for Charles and Pat Boyer, and the guests included Gloria and Jimmy Stewart, Loretta Young, and Irene and me. Irene hadn't seen the Boyers in 10 years, and I asked her what she was going to wear. "The gold caftan, I think," she said, referring to a long, loose garment the designer Jean Louis had made for her. I said, "Irene, not again. Why don't you wear that short black velvet Jean Louis with the white collar and cuffs?" Reluctantly she took my suggestion, and when we got to the LeRoys', I was happy she had. There was Boyer, looking as handsome as ever, in a dark-green smoking jacket. He stretched out his arms to Irene and gave her a big kiss, and I could see that she had tears in her eyes. Then he held her away from him and said, "Irene,  you look so beautiful, and you still have the best legs in Hollywood." She never saw Boyer again. His wife died a few months later, and the next day he committed suicide.
 Irene had funny stories about two of the roles for which she got Oscar nominations. Cimarron, her second film, was based on Edna Ferber´s novel about the Oklahoma homesteader's rush and starred Richard Dix. Irene's agent, Charles Feldman, brought her out from New York to test for the role of the leading lady, and he was so unhappy, when she didn't get the part that he persuaded her to make the train trip through the country a second time and test again. It was a costume drama, and while Irene was at Columbia Pictures getting dressed, a wardrobe woman walked by carrying some western bonnets. Irene grabbed one, tied it under her chin, and went off to do the test. Since she felt she had read the same way she had the first time, she always liked to say that she didn't get the part - the bonnet did.
 Five years later the producer Harry Cohen wanted Irene to star in a light comedy called Theodora Goes Wild. Irene didn't like the script, or the leading man, Melvyn Douglas, or the director, Richard Boleslawski, so she said no. When Cohen insisted, Irene took her husband, her adopted daughter, and their household staff to France. She told Charlie Feldman she would come back as soon as the picture was recast. Cohen exploded and told Feldman that Irene could stay in Paris until she rotted, but he would not recast the film, and she would never work in pictures again if she didn't co-star in it. Finally Feldman persuaded her to come back and do the picture with Douglas and Boleslawski, and once again she gave a magical performance and got a nomination for best actress.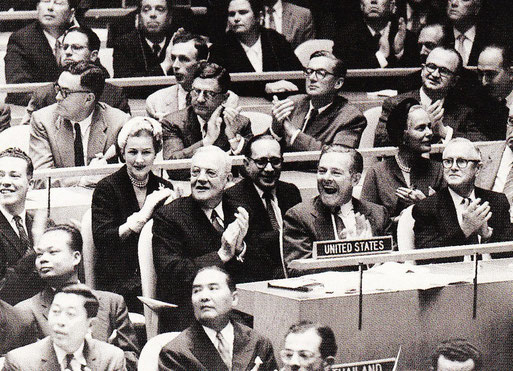 After Irene retired from pictures, in 1953, she devoted her time to volunteer work for the Republican Party and Catholic charities. In 1957, for her work on behalf of the Republicans, President Eisenhower appointed her to be a delegate on the 12th General Assembly of the United Nations. Before she left Beverly Hills, Loretta Young asked her, "Who is going to dress you in New York?" Irene said, "Well, I suppose I am. I'll take what I have here." Loretta said, "Oh, no, Irene, you've got to have a look! I think you should get Mainbocher to create a wardrobe for you." Irene gave a little gasp, because she was very close with a dollar, but in the end she let Loretta prevail. Mainbocher designed a number of dresses for her, and when she got back to Los Angeles she told me, "I have to admit that I looked as good as anybody on the streets of New York."
 Her two favorite causes were St.John's Hospital in Santa Monica and the Motion Picture Home. In 1962 she helped put together the movie How The West Was Won and got the actors and production people to work for scale so that a percentage of the profits could go to St. John's. The picture eventually made between $4 and $5 for the hospital.
 For one charity event, Irene and Loretta Young, who also was a devout Catholic, were in New York, staying at the Hotel Pierre. As they were leaving for the benefit, Loretta said, "Are those the best earrings you have?" Irene said, "What's wrong with them?" Instead of answering, Loretta got out an extra pair of diamond earrings she had with her and said, "Here, try these on." There was no comparison, so Irene wore Loretta's earrings. Leaving the party later, Irene took one off because it was pinching her ear. She wrapped it in a Kleenex and slipped it into her pocket. Arriving at the Pierre, she inadvertently pulled the Kleenex out and dropped it in the gutter. Only when she was undressing upstairs did she realize what she had done. She called down to the doorman, but the Kleenex and the earring had disappeared. When the ladies returned to Beverly Hills, Irene went to Russer's, the well-known jeweler, and had the remaining earring copied. It cost her $12.000, and she vowed that she would never borrow anything again. She was wrong, however, as you shall see.
When I produced Airport '77, I cast Jimmy Stewart and Jack Lemmon in the leading roles. One day Jules Stein called and said, "Who are you going to have for the woman in this film?" After I listed several people I had in mind, he said, "I've got just the person: Irene Dunne." I said, "There is no way Irene would do that part. First of all, she's been retired for more than 20 years, and, second, the woman is going to have thousands of gallons of water dumped on her every day for a week. I wouldn't dream of subjecting Irene to that." He said, "Send the script to Irene, and this is what you propose: we will pay $200.000, not to her, but to the Motion Picture Home in her name, and we'll give her a new Rolls-Royce every year for the next 10 years." Stein was the boss, so I said, "O.K. she'll get the script today." I phoned Irene, and she said she would read it that night. The next day she called and said, "I love it, but I just can't do it." I asked her why. "Well...I don't like Rolls-Royces."
 Airport '77 had a special premiere in Anchorage, Alaska, and Jimmy and Gloria Stewart, the designer Edith Head, the director, Jerry Jameson, and I planned to attend. I invited Irene to go with us, and she was delighted. I told her she would need a couple of fur coats, and she said, "I only have my mink and my broadtail." I said, "Borrow Loretta's lynz." She said, "Oh, I hate to borrow things." I said, "Look, she'll be happy to let you have it."
So she took the Lynz to Alaska, and she looked wonderful in it. However, whenever we would get into tight quarters, touring in out-of-the-way places, the lynz would get pushed under a seat or in an overhead rack. By the time we got home, it looked as if it had had more than 8 or 10 days wear; it looked worn out. When Irene returned it to Loretta, Loretta naturally asked, "Is this the coat I loaned you?" Irene replied, "Of course it is, darling. I hardly wore it." 
Jimmy and Gloria Stewart gave a party for their 35th wedding anniversary. They put a white tent in their garden and invited 60 or 70 people. It was quite a stellar crowd. I was seated next to Irene, and Jack Lemmon was on her other side. He was thrilled to be able to talk to the great comedienne he so much admired. "But why did you retire?" he finally asked her. "Well, you know, when a woman reaches a certain age, the scripts are not right for her, and I just thought it was time to exit the scene." Then Jack asked her, "What do you do with yourself?" Irene said, "Oh, I'm involved in various charities, and I have my friends, and I like gardening." Jack said, "Have you ever played golf?" "Yes," she replied, "but I gave it up." "Oh, " he said, "not any good at it, like me?" Irene said, "Well, no, just the opposite. After a hole in one at the Pebble Beach and a hole in one at the Bel Air Country Club, I decided I was too good and gave it up." Jack Lemmon was speechless.
 Jean Louis did most of Irene's clothes, and one of her favorite creations was the golden caftan I alluded to earlier. She wore it quite often, not out so much but frequently at small dinner parties in her home. To one of this she invited the Stewarts, Loretta Young, Frances (Mrs. Edgar) Bergen, Constance (Mrs. Jerry) Wald, my friend the producer Jim Wharton and me, and a few others. I realized that the date was Valentine's, so I called all of the women and suggested that they surprise Irene by wearing red or white, and the men would wear tuxedos. We all arrived at Irene's house about the same time, and when the door was opened Irene was in the gold caftan. She was so stunned to see all the women red and white and the men looking handsome in tuxes that she laughed about it. The following year she gave another Valentine's Day party, and that time she was in red chiffon dress, which she then wore every Valentine's Day for the next 12 years. She had the dress made, and she first wore it at the Walter Annenbergs 'New Year's Eve party. After that it became her Valentine's Day dress.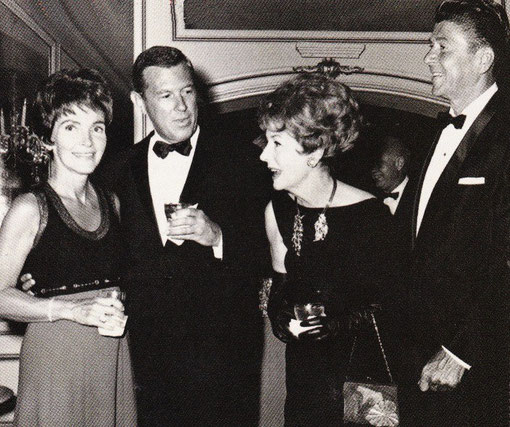 Nancy and Ronald Reagan were friends of both Irene´s and mine. I had produced General Electric Theater on CBS for a number of years, and Ronnie had been the host. When Irene and I were invited to Washington for his 75th birthday, she asked me if I was going to take a gift. I told her I had a special tape of songs from the time when Nancy and Ronnie were married, and that was going to be my gift. She said she would like to give him a sweater and asked if I´d go to Dick Carroll´s in Beverly Hills and pick out a nice cashmere one, preferably in maroon or in navy blue. I called her from the store and said, "Irene, they have exactly what you want, but I just want to make sure. Long-sleeved cashmere sweaters are $375." After a moment´s hesitation, she said, "Three seventy-five? Are they that much?" They would be almost twice today, but this was 1986. Then Irene asked, "Do they have sleeveless ones?" I said, "Yes, they do, in the same colors, and they are $175." "Oh, well," she said, "I think one of those would be nice, don´t you?" And her present was a sleeveless sweater from Dick Carroll´s.
On December 8,1985, Irene was one of the recipients of the annual Kennedy Center Honors. The other five that year were awarded to Bob Hope, Beverly Sills, Alan Jay Lerner, and Frederick Loewe, and Merce Cunningham. While cognizant of the great honor, Irene felt at first that a trip would be too much for her, since she wasn´t in the best of health. But with pressure from her good friends George Stevens Jr. and Nick Vanoff, the producers of the event, and a little pushing from me along the way, she decided it was something she should do.
 Several weeks in advance, she started making preparations for the festivities. She had Jean Louis go to her house with designs for three evening gowns. She even went out and bought a new mink coat. Then I flew to Washington with her, along with her two grandchildren and her nephew and his wife. We stayed at the Ritz-Carlton. The first night Bonita Granville Wrather, the former film actress, gave a lovely, intimate party for her at the hotel. The next day Irene went to the hairdresser, checked her clothes, and had some close friends to her suite for cocktails. On the way to the gala dinner in the Jefferson Room at the State Department of State, however, she became ill, and I had to take her to the hotel.
 The next morning, thanks to Nancy Reagan, the Reagans´doctor went to the hotel to check Irene. He gave her a prescription and said she could attend the Kennedy Center gala that night. I remember she wore a blue gown with blue feathers. She had a diamond necklace, a diamond bracelet, and diamond earrings - all borrowed from Jean Louis´s Wife. What she didn´t have was a diamond ring.
 Irene never had great jewelry of her own, so before the trip I had decided to surprise her with a diamond ring. I found the best copy of a big, square-cut diamond ring for $40 at Bullock´s Wilshire and got a ring box at Van Cleef & Arpels. When I presented it to Irene that night, she asked me where it came from, and I told her that it belonged to a friend, and that at the end of the evening I had to take it back. She put it on and beamed, and went to the ceremony glittering with diamonds. A formal picture was taken of the honorees, and Irene, with all her film training, knew exactly how to use that hand when she was photographed.
 At the end of the evening, back at the hotel she was not feeling all to well. The following day she was worse, and again the Reagans were responsible for sending the doctor. This time he put Irene in Georgetown Hospital, where she had to stay at least a week, so ill that a priest was brought in and she received the last rites. At last she improved, however.
 In the meantime I had returned home and arranged for a private plane to fly her back to California. I met her with a nurse and drove her home. Over the next two or three weeks she recuperated nicely. She wanted to make sure I had sent the diamonds back to Jean Louis, and when she asked me again who had lent the diamond ring, I replied only, "A friend." Today that diamond ring is frequently worn by our close friend Constance Wald.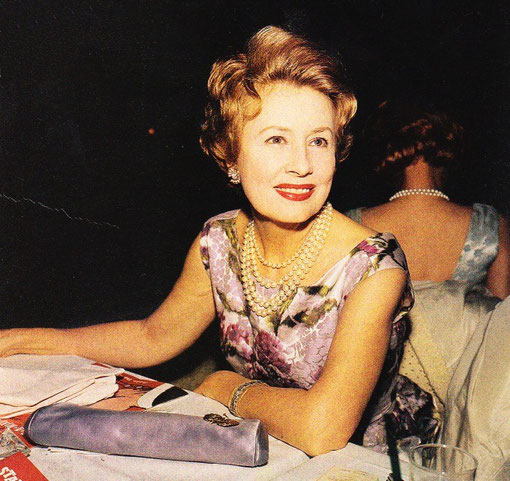 Late in the afternoon of September 4, 1990, I had a call from Loretta Young. She was at Irene's, where she had been since noon. She said she had to leave, and asked if I could go and sit with Irene, because her condition was grave.
 I arrived at the house about five, and I sat with Irene and talked to her, not knowing if she realized that I was there, although her eyes were open. She was attended by two nurses and was fed intravenously. At 6:18 everything stopped. One nurse walked over to me and nodded her head, then went back to Irene and closed her eyes. Irene was gone.
 They asked me to leave the room, and I went down the long hall to Irene's upstairs office.  I made a few phone calls to friends to tell them the sad news. About 20 minutes later one of the nurses came and asked me to go back to the bedroom. When I walked in, I was absolutely astounded, Irene looked entirely different. They had taken white linen and bound her head with it like a nun's coif. They had put color to her checks and lips, and they had covered her in her black Knights of Malta cape with a large white cross down the middle. Her hands were outside the cape, holding a rosary of amethyst beads that I had taken to Rome several years before to be blessed by the Pope. It was her favorite rosary and always hung on a little hook by the side of her bed. This beautiful woman looked 15 years younger than when I had left her 20 minutes earlier. I stayed a few minutes, said a quick prayer, and left.
 Soon a hearse arrived, and attendants went upstairs. I sat in the entry hall and watched them come down the circular staircase carrying Irene in a blue plastic bag. I followed them out to the hearse and watched them put her in the back and close the door. I looked back at the house, then got into my car and drove away. I never returned.
 A private funeral had been planned and orchestrated by Irene herself. She left a list of 30 people who were to be invited to the service and a luncheon afterward. The guests were told to drive to the Good Sheperd Catholic Church in Beverly Hills, where they would leave their cars and be assigned to limousines, four guests for each limousine. We were driven to Whittier, a city at the outskirts of East Los Angeles, where Irene was entombed in a beautiful Byzantine church. The altar was covered with pink carnations and pink orchids, and six priests officiated.
 There were only about 23 people at the service, since some on the list were unable to attend, including Gloria and Jimmy Stewart, who had stopped going to funerals after Gloria's son was killed in Vietnam. Many who had hoped to be invited called me, and I had to tell them that that was the way Irene had planned it. Three close friends weren't on the list, and I called Irene's attorney to try to get them invited. He said, "No, unfortunately Irene left very explicit directions: no substitutes."
 At the end of the service we were driven back to the church in Beverly Hills. From there the guests drove their own cars to Irene's house for the luncheon. She had planned the whole menu. I watched them drive away, but I didn't go back to the house, ever. I had said good-bye.
Irene is never more vivid to me than when I'm in Pebble Beach. We went there about five years before she died to stay with our friend Mrs. Justin Dart. Irene knew that I had once made a film in that area and had shot a couple of scenes in the famous Carmelite monastery south of Carmel. She said, "You know, Bill, I would really like to see that monastery." I said, "No problem. I know the mother superior, if she's still there." So I called, found out that she was, and asked if we could come for a visit. She was more than pleased.
 The next day, when Irene and I arrived at the monastery, the mother superior came out to greet us and said, "Irene! How wonderful to see you again!" Irene was puzzeld: "Have we met before?" The mother superior said, "Irene, you and I used to work at the Hollywood Canteen during World War 2. While I was working at the canteen, I was editor of Photoplay magazine. My office was at Hollywood and Vine Street."
Irene loved to tell naughty stories. One she liked especially was about three nuns who are killed in an automobile accident. A short time later they appear before Saint Peter at the Pearly Gates.
 "Sisters," he says, "in order to enter you must each answer a question." Turning to one of them he asks, "What was the name of the first man?"
 "Oh, that's an easy one," she says. "Adam." And with that the Pearly Gates swing open and she enters the Paradise.
 Saint Peter then addresses the second nun. "What was the name of the first woman?"
 "Oh, that's an easy one," she replies. "Eve." And the gates open and she enters.
 Turning to the third nun, Saint Peter asks, "What was the first thing Eve said to Adam?"
 After a long pause, she says, "Oh, that's a hard one," and before she can say another word the Pearly Gates swing open.
 After Irene told it to me, she looked at me with her impish smile. I said, "Irene, I'm surprised that you would tell that."
 "Oh, Bill, why?" she said. "There's not a single four-letter word in it."  
(Vanity Fair, March 2004)
Thanks to Donna for this article!