Irene Dunne Back - Will Appear In Television Show
by Bob Thomas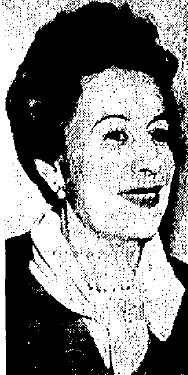 AP Movie TV Writer
HOLLYWOOD - Irene Dunne was back before the camera this week, working in a TV show called "Frontier Circus" of all things.
 She likes TV, she said. After a long career of plowing through feature pictures, she enjoys the hit-and-run schedules of television.
 "It's a challenge," said the actress, as regally lovely as ever at 56. "You're entirely on your own. You've got to work out your own characterization before you start, because you won't have time afterwards."
 She was working on the back lot of Universal where she made "Back Street" and "Show Boat" early in her film career. There was something incongrous about the great lady being surrounded by bears, lions and roustabouts of the slighlty seedy circus. She plays a lady doctor who becomes involved with Chill Wills, impresario of the travelling troupe.
 "I haven't retired." Miss Dunne remarked. "I never would retire, because I love this business. And you know, there's something odd about it. No matter how long you've been gone, you can come back and it seems like you've never left it."
 She does an occasional TV show but most of her time is devoted to charities and her work for the United Nations. One of her big jobs this year was lining up the deal for "How The West Was Won." The MGM Cinerama epic is an unique project which will benfit St. John's Hospital in Santa Monica. She is married to Dr. Francis Griffin. 
 Miss Dunne has not made a feature picture since "It Grows On Trees" in 1952. Will she do another one? "I don't know," she said dubiously, "I had a long and wonderful career in films. Would I ever be able to find a picture as good as some of those I've done?"