Irene Dunne Returns In Television Drama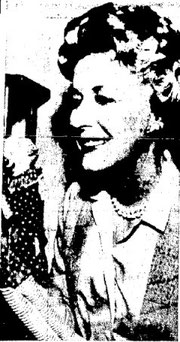 Irene Dunne is shown as she plays one of her rare TV roles, taking a part of a doctor in a clinic for retarded children. Miss Dunne plays the role in one of the new June Allyson TV series.
HOLLYWOOD - Movietown welcomed his most distinguished actress back before the cameras this week when Irene Dunne starred in a segment of the new June Allyson television series. 
 In an era when actresses universally earn the reputation "beautiful but dumb" Miss Dunne is an outstanding exception.
 During the past few years she had neglected her acting career for other activities - as a delegate to the United Nations 12th General Assembly, a sponsor of the National Hear Commitee, a worker for the Catholic Church and the Republican Party, president of the St. John's Hospital Clinic, on the board of directors of the Hollywood Bowl, and a director of the Los Angeles Orphanage.
Closest to her heart is the Clinic for Retarded Children, and it was this work that inspired Irene to return to acting.
 "I agreed to appear in June's show (CBS-TV, Oct. 5) to portray the role of Dr. Frostig, the famous woman doctor who established a clinic for retarded youngsters," she said.
  She was sitting in the den of her Holmby Hills home, which she built in 1936. She lives there quietly with her husband Dr. Francis Griffin, a retired dentist. An autographed picture of President Eisenhower was perched on the desk.
  "It's two years since I've done any acting," Miss Dunne went on," and was delighted with the feeling that I've never been away.
 "I felt like an old fire horse. Memories came rushing back to me. It was just a half-hour TV show, but I could have gone right on and made six more of them."
  Will Irene Dunne resume her acting career on a full-time basis?
  "I'm very keen on TV, and I keep hoping it will get better. But my other activities demand so much time I can't really give much thought to concentrating on acting."
 Still beautiful and slender, Miss Dunne has a gentle magnetism about her, exuding youthful freshness.
"The most dramatic thing I've ever experienced was my year with the United Nations," she said. "Meeting all those people from every nation on earth was fascinating. Their problems and goals in life are so immediate and arresting it makes you realise you've never known human drama before."
(The Press Courier, 10.02.1959)